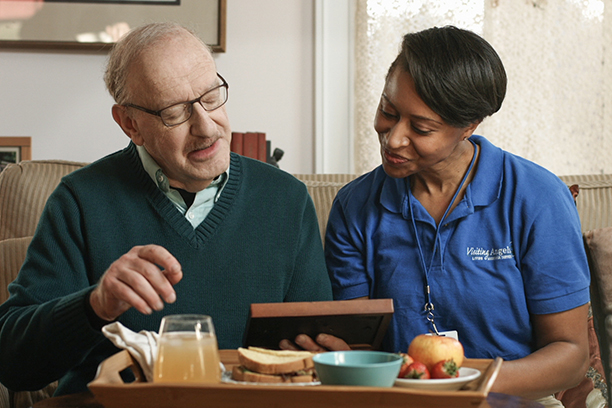 Yellow Dot Program
Get the Yellow Dot Today!
Visiting Angels of Naperville is proud to be a distribution center for the IDOT Yellow Dot Program.
The Yellow Dot program is a traffic safety initiative that provides first responders with critical personal information necessary to treat victims at the crash site. Because the first hour or the "golden hour," following an injury is the most crucial, this information can mean the difference between life and death.
Last year's press event introduced the program with special focus on the benefits to the elderly. To start this year's program, IDOT is stressing the importance of Yellow Dot for everyone, especially for children with serious health issues or conditions as well.
"Preventing disease, illness and injury is the primary role of public health. Preparing, as is promoted by the Yellow Dot Program, is a valuable tool in keeping families as safe as possible" Jim Stone, Director, Sangamon County Department of Public Health.
"In the event of traumatic injury or any medical emergency, time is always a factor. Plain and simply, the Yellow Dot program saves time and lives," said Josh Ross, an EMT and Operations Manager of America Ambulance. "We see more and more children with special needs in the EMS field with hypersensitive allergies, taking special medications, and requiring special care. All of this information is crucial in providing excellent pre-hospital and Emergency Room care."
Participants are supplied with a simple, bright yellow decal for their car and a folder. The decal is placed in a conspicuous and consistent place – in the lower left-hand corner of the rear window on the driver's side. The dot signifies there is a folder in the glove compartment containing the following medical information about the motorist: participant's name, current close-up photo, emergency contact information, patient's physician information, medical conditions, recent surgeries, allergies and a list of current medications.
"My grandchildren are the most important people in my life," said Julie Cowgill, a program participant whose four-year-old grandson is a hemophiliac. "Because of the Yellow Dot program, my family feels safe knowing he will get the immediate medical treatment he truly needs if he should ever be involved in a crash. Yellow Dot sets our mind at ease – knowing we've done everything we can to quickly notify authorities of our grandson's condition."
Having access to this information allows first responders to make important decisions regarding emergency treatment and can better prepare emergency hospital staff in the receiving room.
Packets are available at no cost at Visiting Angels of Naperville, 1560 Wall St. Suite 203, Naperville, IL.
For more information on the program and to find a distribution center near you, www.wheelingil.gov/DocumentCenter/View/338.
Visiting Angels in Naperville, IL provides senior care, in-home care, senior homecare, Dementia care, Alzheimer's care and caregivers in Glen Ellyn, Lombard, Wheaton, Carol Stream, Winfield, Downers Grove, Oak Brook and Naperville, Illinois.
Serving Naperville, Wheaton, Glen Ellyn, Lombard, Oakbrook, Winfield, Carol Stream and Surrounding Areas
Visiting Angels
NAPERVILLE, IL
1415 Bond Street #123
Naperville, IL 60563
Phone: 630-790-1112