In Home Care in Egg Harbor Township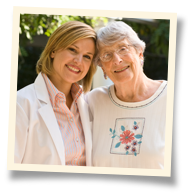 If you used to visit an older family member on a regular basis, this year might've made it difficult to do so. With health precautions in effect around the country, many people aren't able to travel to visit family. It's resulted in even higher rates of loneliness for seniors. That's where professional in home care from Visiting Angels® Egg Harbor Township can truly have an impact.
We help with the wide-ranging needs of seniors, from helping around the home to providing comfort and companionship. If your loved one is living at home on their own, we can help, too.
3 Signs Of Social Isolation Taking A Toll
How do you know if a family member is really struggling with social isolation? From the team at Visiting Angels Egg Harbor Township, here are a few signs that in home care services may be needed:
Erratic behavior. Long-term isolation can trigger less predictable behavior from a family member. You may notice mood swings, an uptick in anxiety or stress, or other erratic patterns. You may find a loved one is suddenly withdrawing, contacting you much less frequently, or otherwise behaving abruptly. These can all be the result of sustained social isolation.
Diminished grooming. When people don't have a reason to leave the home, it's easy for grooming habits to go out the window. That may be especially true for seniors who already struggle with physical tasks. If your loved one's stopped changing clothes regularly, neglecting their appearance or forgetting to bathe, it may be a sign that social distance is getting to them.
Sleeping too much or too little. Loneliness can often result in anxiety or depression. These may cause sudden shifts in sleeping patterns. For some people, it's easy to get caught up in anxious thoughts, making it more difficult to sleep. Others may be more likely to feel low-energy or to sleep for longer periods of time. If either is occurring, you'll want to consider getting proper support.
Friendly, Adaptive In Home Care in Egg Harbor Township
With our in home care agency, you can set up regular caregiver support for your loved one. The same care professional will always visit, alleviating feelings of loneliness or unfamiliarity. Our caregivers can travel to:
Egg Harbor Township
Ventnor
Margate
Galloway
Brigantine
Atlantic City
Atlantic County
And throughout the surrounding area
Make sure your loved one always has a friendly face nearby. If you want to speak to the in home care team at Visiting Angels Egg Harbor Township, call (609) 641-7200.