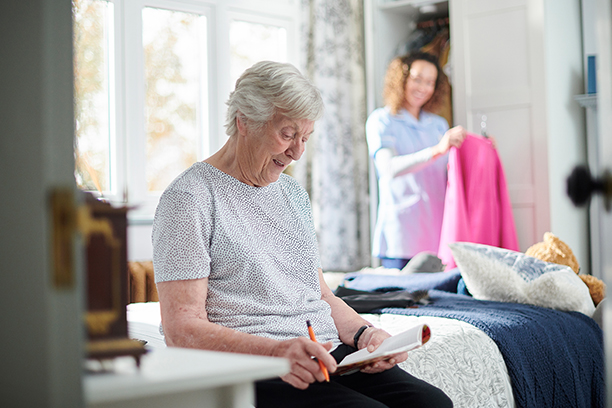 Why Choose Visiting Angels El Paso for Elder Care Assistance?
Daily tasks can become difficult to manage for our loved ones as they age. If you have a busy schedule or children of your own, you may not be able to be with your mom, dad, or grandparent as often as they need. At Visiting Angels® El Paso, our team is dedicated to providing top-notch elder care assistance, as well as the joyous companionship your loved one deserves. We have made the assistance and care of local seniors our priority.
Elder Care Assistance On Your Schedule
These days, everyone is busy. Between work and kids and everything else life throws at you, you may find yourself stretched too thin to be able to spend as much time with your loved one as you'd like. At Visiting Angels El Paso, we put your loved one's elder care assistance schedule completely in your hands. Whether you need us part-time or full-time, we'll work with you to create a care schedule that works best for you and your loved one.
Licensed, Bonded, and Insured
Our team is committed to inspiring confidence and comfort with our care, and we take several precautions to put your mind at ease throughout the entire time that your loved one is in our care. At Visiting Angels El Paso, we are required to be fully bonded and insured, as well as carry the proper licenses to deliver our trusted brand of hands-on elder care assistance.
Ongoing Monitoring of Care
Another measure we take to ensure your loved one's comfort with our service is the ongoing monitoring of our caregivers. We will stay in touch with your loved one through regular telephone conversations, as well as drop-in visits. At Visiting Angels El Paso, we maintain an open line of communication to ensure your loved one's comfort and satisfaction, and also monitor for any requested changes in their elder care assistance.
Customized Elder Care Assistance in El Paso
Your loved one is special and cookie-cutter elder care assistance isn't going to provide the quality care they need an deserve. The team at Visiting Angels El Paso will work closely with you to create a personalized elder care assistance plan for your loved one that fits their needs. During our pre-care consultation, we will discuss every aspect of care necessary to create an individualized care plan and find the best caregiver for your loved one.
Call Visiting Angels El Paso today for more information about our compassionate caregivers and our attentive elder care assistance serving families in El Paso and the surrounding communities.
Serving El Paso and the Surrounding Areas
Visiting Angels
EL PASO, TX
4171 N Mesa St #A101
El Paso, TX 79902
Phone: 915-799-0141
Fax: 915-799-0149