Caregiver Jobs

Part-Time and Full-Time Caregiver Jobs
You can build a rewarding career out of making a positive difference in the lives of local seniors and their families by joining our Visiting Angels' team. Visiting Angels' caregivers make life at home safer, happier, and more comfortable for seniors. As a member of the Visiting Angels team, you will make aging in place possible and help minimize the risk of senior isolation and the effects that come with it.
Visiting Angels offers a wide range of caregiver job opportunities. Some caregiver roles do not require special certifications, training, or prior experience to apply. We fill positions related to:
Companion care
Elderly care
Personal or private care
Assisted living
Home care assistants (home care aides)

Specialized home care (including Alzheimer's, dementia, palliative, end-of-life care, fall prevention, etc.)
Our locations offer part-time and full-time home care positions with flexible scheduling and highly competitive pay.
Caregiver Job Duties
Our professional senior care duties will vary depending on the needs and requests of the client and family. Common home care duties and caregiver job descriptions may include:
Personal care assistance (bathing, grooming, dressing, toileting, etc.)
Companionship and emotional support

Meal planning and preparation
Laundry and light housekeeping

Medication reminders
Assistance with other activities of daily living
Caregiver Qualifications
Your enthusiasm and passion for building relationships with clients are as important as your professional qualifications. If you are positive, hardworking, and above all, you love caring for others, reach out to learn more about our available caregiver opportunities.
You will need to demonstrate the following qualities:
Communication and listening skills
Empathy and compassion
Motivation and patience

Observation and attention to detail

Time management and organization

Warmth, kindness, and a loving spirit

Additional qualifications or certifications may be required, depending on the hiring practices of your local office or regulations in your state. We encourage you to speak with your local Visiting Angels office about its hiring practices and job requirements.
Why Work as a Professional Caregiver at Visiting Angels?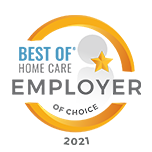 Visiting Angels has earned a reputation as one of America's leading home care brands for caregivers. Our locations offer highly competitive pay, flexible scheduling, a supportive work environment, and a wide range of caregiver job opportunities. Many of our locations also offer paid education, assistance with caregiver certification, and employment benefits.
Last year, more than 100 of our locations received the Best of Home Care® Employer of Choice award from Home Care Pulse! This exclusive designation is awarded to agencies based on feedback from caregivers themselves. Visiting Angels is also one of only 10 brands endorsed as a Best of Home Care® National Provider.
---
Apply for Home Care Jobs Today!
Visiting Angels makes it easy to find and apply for senior care jobs in your area.
Simply search for your ZIP code, complete the online form, and submit your information. Your local office will contact you with any current job openings or as soon as new positions are available.
Contact your local Visiting Angels office today to learn about caregiver jobs near you!
How to Apply
Find caregiver jobs in your area in three easy steps!
| | | |
| --- | --- | --- |
| | 1. | Tell us where you want to find senior care jobs. |
| | 2. | Fill out our online form with your information. |
| | 3. | We'll contact you with job opportunities near you! |
Caregiver Jobs FAQ
What is a Caregiver?
A "Caregiver" refers to an individual who assists another person with daily living activities and personal hygiene. While family members and friends can provide care for a loved one, a "professional caregiver" is specially trained to deliver personalized and specialized home care services that benefit seniors and help them live comfortably and safely in their homes for a long as possible. Professional caregivers can assist for a short time (respite care) or long-term, including 24/7 care. They can also provide one-to-one services for older adults in nursing homes and assisted living facilities.
Where Are Visiting Angels Hiring Caregivers?
Visiting Angels has nearly 600 locations across the U.S. We have offices in all 50 states and almost every major metro market in the country. Our locations are always looking for qualified caregivers, and we encourage you to apply to a location near you.
To apply for caregiver positions at your local Visiting Angels office, simply search for your ZIP code and complete the online form provided. Your local office will then get in contact to discuss available opportunities
What Types of Senior Care Jobs are Available?
Visiting Angels offers a wide range of job opportunities for caregivers. Our most common type of caregiver position is for companion care providers. We also offer positions for personal care providers, home health aides, and caregivers with specialized skills or experience in areas such as Alzheimer's care and dementia care.
Do I Need Special Certification, Training, or Experience to Apply for Caregiver Jobs?
Most Visiting Angels locations do not require special certifications, training, or experience to apply for caregiver positions.
In many cases, your local Visiting Angels can help you obtain caregiver certifications if required by your state. Many locations also offer paid training and orientation to new caregivers. While we are always looking for experienced caregivers, prior experience is not a requirement for most entry-level positions.
We encourage you to speak with your local Visiting office about their hiring practices and job requirements.
How Much do Caregivers Make per Hour?
Visiting Angels is known for providing highly competitive pay to caregivers. Each office is responsible for setting its own rates, including additional pay for advanced caregiving roles and different types of scheduling.
To learn more about caregiver pay rates in your area, we encourage you to speak with your local Visiting Angels office.
What Types of Scheduling Options are Available?
You'll have the chance to work on your schedule. We encourage our locations to provide caregivers with as much scheduling flexibility as possible, allowing you to balance your personal life against a vibrant caregiving career.
Many locations offer a wide range of scheduling options, including part-time and full-time positions, daytime and evening care visits, weekday and weekend scheduling, and opportunities for overtime work.
Contact your nearest Visiting Angels location to learn more about scheduling options provided by your local office.