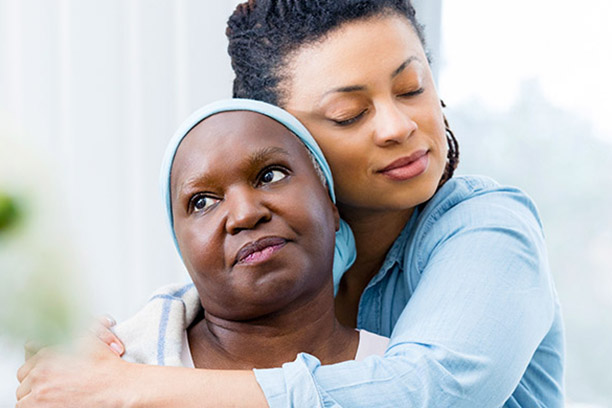 End of Life Care
End-of-life care provides physical and emotional support during the final stages of life so you and others can spend meaningful time with your loved one.
Visiting Angels® offers professional non-medical assistance for individuals during the end-of-life phase. Compassionate palliative care services will keep your loved one comfortable and at peace. Although the Visiting Angels' program does not include hospice care, an expert caregiver will provide comfort and relief assistance that complements hospice services. Visiting Angels aims to support you and your family by offering a helping hand whenever needed.
What Is End-of-Life Care?
When a loved one has a limited life expectancy due to a terminal illness or other cause, they often require non-medical care to improve their quality of life and well-being during their final days, weeks, or months. In many cases, day-to-day personal care responsibilities fall on the shoulders of family and friends.
Sometimes it is too difficult for relatives and close friends to shoulder the physical and emotional demands on their own. Professional end-of-life care services are a common resource — and Visiting Angels can help.
Visiting Angels offers you, your family, and your loved one the assistance and support needed during the final stages of life. Caregivers will work with your care professionals and provide essential personal home care services to help:
Enhance physical, emotional, and spiritual well-being
Maximize comfort and improve quality of life
Manage pain and other symptoms
Assist with personal tasks such as dressing, bathing, and daily hygiene
Alleviate feelings of loneliness, stress, and anxiety
End-of-Life Care Options
You may feel overwhelmed searching for appropriate end-of-life care for a loved one and confused about how palliative care differs from hospice or whether a nursing home is the best alternative.
Visiting Angels can be a valuable option for you and your loved one during this difficult time. As a leading senior home care provider for families nationwide since 1998, Visiting Angels will be with you every step of the way to give you the attention, guidance, and support you deserve.
Whether your loved one spends their remaining time at home, in a nursing home, or in another facility, Visiting Angels will help create a comfortable and relaxing environment while providing companionship, emotional support, and spiritual connection.
A professional caregiver can also handle housekeeping tasks, assist with personal care and hygiene needs, and provide sympathetic assistance so you and your family can focus on spending time with your loved one during their final days.
If you need a break or breather, Visiting Angels can offer respite care – or temporary relief – while your loved one receives support. Caregivers can manage meal preparation, laundry, light housekeeping, shopping, and running errands. These professional aides serve as essential support systems for you and your family in moments when you feel overwhelmed.
Contact Visiting Angels for End-of-Life Care Services

Reach out to your local home care office to find the best end-of-life options for your loved one. A coordinator will provide any information you need and schedule a convenient time and place for a free, no-obligation, in-person consultation.
Find your nearest Visiting Angels' home care agency today, or CONTACT US to learn more!
Serving Evansville, Newburgh and the Surrounding Areas in Indiana
Visiting Angels
EVANSVILLE, IN
123 NW 4th St #312
Evansville, IN 47708
Phone: 812-618-0032
Fax: 812-618-0080