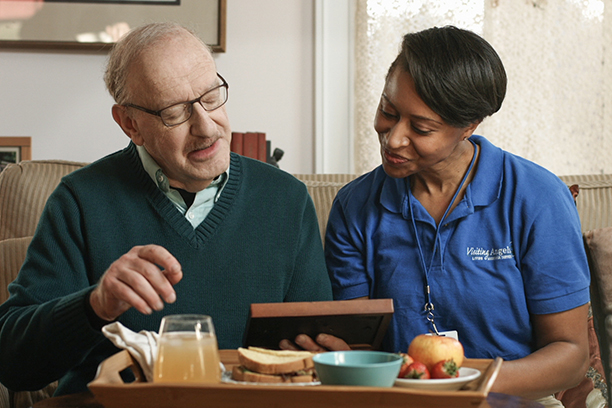 How Transitional Care in Glendale Reduces Hospital Readmissions
Ready-Set-Go Home with Transitional Care
When a loved one is in the hospital, your worries may feel overwhelming. From wondering when they will be discharged to how they will recover at home and whether they can avoid rehospitalization, your concerns may start to cloud your mind. Finding a transitional care partner you can trust to help manage the discharge and recovery of your loved one in Glendale can make a huge difference in how you feel about their future.
At Visiting Angels® Glendale, our experience has shown us the importance of transitional care for seniors. To ensure care recipients benefit from multiple forms of support as they make the transition from hospital to home, we have formulated a specialized program called Ready-Set-Go Home. This program includes services delivered in various contexts, assisting both seniors and the family members concerned about their well-being during what is often an incredibly stressful time.
What Causes Readmissions in Glendale?
Readmission rates are high among elderly adults, and taking the initiative to reduce your loved one's chances of rehospitalization is crucial. For example, Medicare has reported that 1 in 5 beneficiaries return to the hospital within a very short window of time after their discharge. It is thus essential for seniors to receive high-quality care and support during the weeks following discharge to ensure they can comfortably recover at home rather than experiencing consequences that require a costly and exhausting rehospitalization.
Following a hospital stay, it is not uncommon for elderly adults to feel a bit off. Whether this is due to mobility limitations, disruptions of their sleep cycle, or weakness from an illness or injury, they typically require help in order to maintain their well-being. Without this help, they may fail to properly care for themselves or engage in risky behaviors such as skipping meals, medication dosages, or follow-up appointments. These factors can contribute to complications and increase the likelihood of hospital readmission.
How Our Transitional Care Program Can Help
Ready-Set-Go Home covers care at the hospital, at home, and from our local office. This three-pronged approach offers a well-rounded support system for elderly adults and gives their overworked family members respite from their duties and relief from worry. We are with seniors every step of the way as they prepare for their discharge and get back to daily life in Glendale.
Book a transitional care consultation to learn more about Ready-Set-Go Home today. Just give Visiting Angels Glendale a call to arrange a free initial meeting in Glendale, Burbank, or a town in the vicinity.
Serving Glendale, Pasadena, Burbank and the Surrounding Areas
Visiting Angels
GLENDALE, CA
1117 E Broadway
Glendale, CA 91205
Phone: 818-549-1400
626-799-0872
Fax: 818-549-0357
1492 W Colorado Blvd #E
Pasadena CA 91105
Phone: 626-799-0872 & 818-549-1400
HCO #194700072