Senior Care in San Dimas: Top Tips For Senior Safety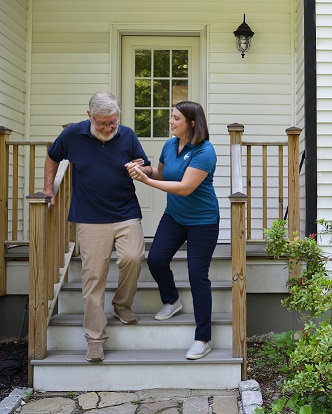 Preventing falls and similar accidents becomes increasingly important as our loved ones get older. At Visiting Angels® Glendora, we offer fall prevention as part of our senior care services in San Dimas and the surrounding communities. We always emphasize safety for seniors aging in place at home.
Let's review a few ways you can improve safety around the house.
Where To Start With Home Safety: Our 3 Tips
Hospitalizations occur more frequently for seniors, and many of these stem from falls. Taking safety precautions is crucial, and can reduce the risk of injury around the house.
If you have an older family member living in San Dimas or the surrounding communities, our agency can always identify fall prevention recommendations. Here's where to start:
Improve visibility. Low-light conditions make it very hard to move around the home safely. Try to boost lighting throughout the house, and especially in the bathroom, kitchen, entryway, hallways, and stairways. LED bulbs will often burn brighter and for longer than ordinary bulbs. Consider adding motion-sensitive lighting, if that's feasible. Even nightlights and other small lighting features can do a lot.
Increase accessibility. Straining and bending can become much more difficult for older family members. Pull-out and pull-down shelving can minimize these actions for your loved one. A grab bar by the bed and tub can also help. It might even help to add a comfortable chair to the bedroom and entranceway, so your family member can sit while they put on clothes, take off shoes, or perform similar tasks.
Consider other safety measures. Now may be the time to consider other safety features. Make sure there's a good, working fire alarm and carbon monoxide detector in the house. A phone or medical alert system in the bedroom might be helpful. A shower seat might be a good addition to the bathroom as well. If your family member needs regular help in San Dimas, you may want to discuss senior care services with them, too.
How Our Senior Care Makes Safety A Priority
Our senior care professionals ease the many challenges that seniors face when living alone at home. From running errands to cooking, we remove many of the more difficult, strenuous tasks that they deal with. For those who need advanced support, we can also help with mobility assistance and daily grooming. We're here for families in:
San Dimas
La Verne
Glendora
Monrovia
Covina
Duarte
And throughout the Glendora area
Get compassionate and reliable senior care services in San Dimas. To get started, call Visiting Angels Glendora to book an initial assessment.