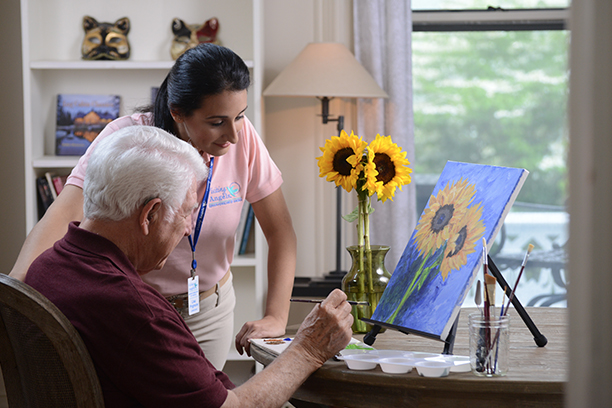 Frequently Asked Questions
Q: Does insurance pay for your service?
A: Non-medical homecare is very similar to Assisted Living. In most cases, our clients pay privately for our services. If the care recipient has Long Term Care (LTC) Insurance, that policy will pay for our services. All LTC benefits are unique (deductibles, waiting periods, maximums, etc), so contact your LTC provider to verify your policy's benefits. Medicare does not cover this type of service.
U.S. Veterans who were Active Duty during Wartime may also have a needs-based benefit that pays for our services. Feel free to call our office for your Veteran's Specialist's contact information.
Q: What are your rates?
A: Our rates are hourly, and are determined by the number of hours you utilize our service, and the payment method you choose. Our rates include all payroll, payroll taxes, bonding, insurance, and worker's compensation insurance. The hours required to properly care for your loved one will be based on their needs assessed during the in-home assessment and on an ongoing basis.
Q: Are there minimum hours of service required?
A: Yes, we have minimum hours required. Minimums are very helpful in providing quality, consistent care to our clients. Caregivers rely upon these hours for their livelihood, and a consistent schedule leads to consistent care. Our current minimum is three hours per shift, and nine hours per week (subject to change).
Q: What is your service area?
A: Our Glendora office serves the communities of Azusa, Bradbury, Covina, Duarte, Glendora, La Verne, Monrovia, and San Dimas. Our Upland office serves Alta Loma, Claremont, Mount Baldy, Pomona, Rancho Cucamonga, and Upland.
Q: Are your services tax-deductible?
A: Eldercare is considered dependent care (similar to childcare). Contact your accountant for more information on requirements and deduction limits.
Q: Is there an additional cost for errands and transportation?
A: If your caregiver uses their car for errands or transportation, you will be invoiced at the prevailing IRS rate per mile driven. Mileage is not charged if the caregiver drives your vehicle.
Q: Which Long Term Care (LTC) Insurance Companies recognize you as a provider?
A: We go through an application process with each LTC Insurance Company. We have gained approval from each LTC Insurance Company to whom we have applied. Here is a list of the companies that recognize us to date:
Banker's Life & Casualty Co.
CalPERS (California Public Employees' Retirement System)
CHCS Services (John Hancock)
CNA Group LTC
Genworth Financial
Lincoln Financial Group
MetLife
Serving Glendora and Surrounding Communities
Visiting Angels
GLENDORA, CA
131 E Foothill Blvd
Glendora, CA 91741
Phone: 626-852-3302
Fax: 626-852-5569
HCO # 194700609