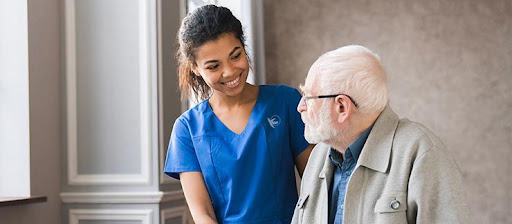 Misconceptions About Working as a Professional Caregiver
Professional caregiving is a rewarding and valuable career choice for many individuals. However, some people feel nervous about stepping into caregiving because of various misconceptions surrounding the job. If you are a hard-working, compassionate, and dependable person who wants to help seniors in your community, don't let misconceptions keep you from working as a caregiver.
Misconception 1: You need a professional healthcare background
Yes, having a background in nursing or experience working as a Certified Nursing Assistant (CNA) is helpful when starting as a professional caregiver, but it's okay if you don't. When you apply for a position with a respected home care agency such as Visiting Angels, we focus on hiring compassionate, empathic, dependable, and hard-working individuals. If we feel you're a good fit for our team, we provide the necessary training to help you develop the skills to be a successful caregiver. You can also seek additional training as you start working if you want to specialize in your care. There are always opportunities to learn and grow as a caregiver, no matter where you're at when you start.
Misconception 2: Caregiving is a lonely career
When you work as a professional caregiver, you don't have an office you have to visit daily, and you don't have a supervisor micromanaging your tasks. It's you and your client alone at your client's home, and it's your responsibility to provide the necessary care. You may sometimes feel alone in caregiving, but you're never truly alone when working with a care agency like Visiting Angels. If you're having a challenging day or need guidance, contact the office staff, reach out to a care coordinator, or connect with another caregiver. Someone in the Visiting Angels community is always available as a caregiver whenever you need it.
Misconception 3: There's no flexibility in caregiving
When you begin a career with Visiting Angels, you let us know how many hours a week you are available and what hours you prefer to work. We will then match you with clients who fit without those guidelines. You are only responsible for a client during your designated shift when you are assigned a client. Clients cannot access their caregivers personal information and can not reach out to you during your downtime. If a client requires care outside of your shift, they can call the office, and the office will arrange for an on-duty caregiver to assist.
Misconception 4: There's no career growth in caregiving
Professional caregiving is an excellent entry position that can grow into various roles. Many individuals work as a caregiver while in school to become CNAs or nurses. Others start as a caregiver and transition into care coordinators or another Visiting Angels office staff member. There is also the option to specialize your care if you enjoy working with specific types of clients, such as those with dementia or seniors transitioning home after hospitalization. Whatever your career goals, the team at Visiting Angels is happy to work with you, so you're fulfilled in your career.
Do you think professional caregiving might be the right career move for you? If so, the Visiting Angels Grand Junction team would love to connect. We hire part-time and full-time positions to assist seniors in Grand Junction and the surrounding communities. To learn more about working for Visiting Angels, you can submit your information online or call 970.254.8888.