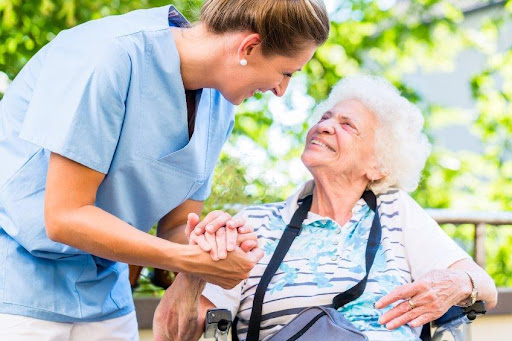 Why You Should Consider a Caregiving Career
Are you among millions of Americans looking for a new career path? Perhaps you're seeking work that makes you feel fulfilled while allowing you to have a healthy work-life balance. If these points hit your checklist and you're a compassionate, reliable, and hard-working individual, you might want to consider a caregiving career.
The Role of an At-Home Caregiver
Before you get started as a caregiver, it's essential to understand the role of an at-home caregiver. The primary goal of an at-home caregiver is to help seniors remain independent by assisting them with non-medical tasks in their homes. These tasks include laundry, light housekeeping, meal preparation, cooking, medication reminders, or transportation to and from appointments. Some clients may require more hands-on assistance with grooming, dressing, showering, and toileting.
Benefits of Caregiving
People choose a career in caregiving for a variety of reasons. It's a position that provides many benefits, including rewarding work, flexibility, autonomy, and job advancement.
It's a rewarding experience
One of the primary reasons people seek a job in caregiving is because they're looking for rewarding work experience. Every day, you're completing tasks helping a senior in your community live safely and comfortably in their home. Unlike corporate jobs, where you might not have visibility into how your work affects the company, you can see exactly how your daily contributions positively impact someone's life.
You'll have flexibility in your work schedule
You control your work schedule when you work with a home care agency like Visiting Angels. You let us know what hours work best for you. Whether those hours are part-time, full-time, morning, or night, we'll do our best to match you with clients who've requested care during your desired time. If you can't commit to too many hours each week, we do have one-off care opportunities where we may need you to sub for another caregiver if they're sick or on vacation.
There are career advancement opportunities
If you're switching careers, you likely want to know that you're moving into a job that allows you to grow professionally. Plenty of growth opportunities are available for those who want to take advantage. You can specialize in a specific type of care, such as working with clients who have dementia. You can also use caregivers and an introduction to the healthcare field. Many individuals start as caregivers before becoming CNAs or even nurses.
There is autonomy in your work
Caregiving is an excellent career for independent workers who enjoy the freedom to complete their work as they see fit. When caregiving, you're working one-on-one with a client inside their home. You won't have a manager or supervisor on sight to ensure you're working, so it is up to you to get your work done correctly and efficiently. And while you won't have supervision at a client's home, you will still have people within Visiting Angels that you can contact if you need help or have questions.
Getting Started with Visiting Angels
The Visiting Angels Grand Junction office hires part-time and full-time caregivers to assist seniors throughout Grand Junction and the surrounding areas. Being a part of the Visiting Angels team means you'll receive competitive hourly wages, flexible hours, bonus opportunities, paid time off, training, reimbursable mileage, and tons of one-on-one client interaction. Plus, we do our best to match caregivers with clients who live nearby so you won't have a long commute to work. If you're interested in starting your caregiving career, call us at 970.254.8888 or send us your online application.