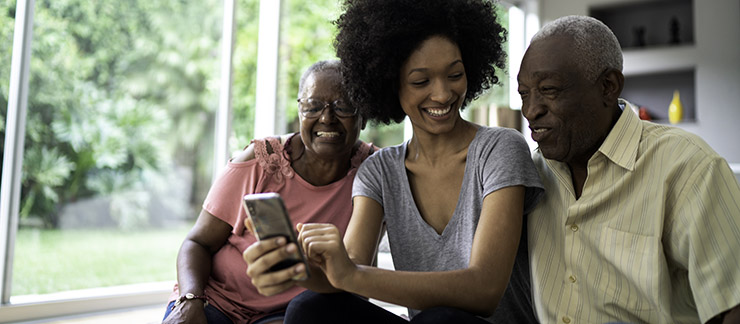 Seniors Embracing Technology to Communicate
While people of all ages are benefiting from advances in technology, seniors are increasingly embracing new digital resources to communicate with family and friends. The latest devices, apps, gadgets, and technological advancements are bridging the generational gap and fostering new ways for seniors to interact.

Professional caregivers from Visiting Angels can ensure your senior continues to have cherished and meaningful interactions with family and friends across digital screens and devices—even from miles away. Whether through video chats, Facebook, or other digital platforms, Visiting Angels can provide the hands-on support your senior needs to use technology safely and effectively—forging a stronger connection with loved ones.
Tech Innovations Improve Quality of Life for Seniors
Increased connectivity can improve the quality of life for seniors. In fact, studies have shown that learning to use technology can foster increased independence and empowerment among older adults while reducing the risk of aging-related social isolation and depression.
Visiting Angels can help your senior learn to use the following common devices and apps that provide social, emotional, and cognitive benefits:
Tablets
Older adults no longer need to be tethered to a desktop computer. They can surf the internet, check email, video chat with loved ones, or watch videos on their tablets. By downloading a few apps, seniors can comfortably expand their knowledge and communication horizons with access to video chat, email, music, e-books, news, and information.
Smartphones
Smartphones can be used in all sorts of ways that benefit older adults. From GPS driving directions to text messaging to storing important phone numbers, smartphones make it easy for your senior to use the internet and communicate from an all-in-one device. In an emergency, smartphones allow your loved one to call for help with the push of a button, and GPS technology can provide their location to loved ones or first responders.
Social media
If your senior is always talking about the good times they had with classmates, co-workers, or far-away friends, social media can help them reconnect with cherished people from their past. Social media can also help them stay plugged into the latest updates from community and religious organizations, businesses, friends, and family members, and join a group to connect with others with similar interests.
Voice-controlled smart speakers
Smart speakers with voice assistants can be an ideal solution for seniors who struggle with using hands-on technology. The technology allows them to play a favorite song, listen to a weather report, place a 911 call, and more. With various smart speakers on the market that include different features, you should be able to find a fit for your senior's needs and budget.
Teaching Technology to Seniors
Visiting Angels offers a Social Care program that monitors and teaches seniors how to use popular digital technologies such as Facebook, texting, video calls, and more to communicate with their loved ones. Through the social care program, a professional caregiver will facilitate your loved one's use of technology by helping them learn new digital skills that will enhance their communication abilities while boosting feelings of accomplishment and preserving their independence.
If you're ready to learn more about how Visiting Angels can blend companionship, compassion, and connectivity to enhance your senior's overall well-being, contact your local Visiting Angels home care location to schedule a free home care consultation today.