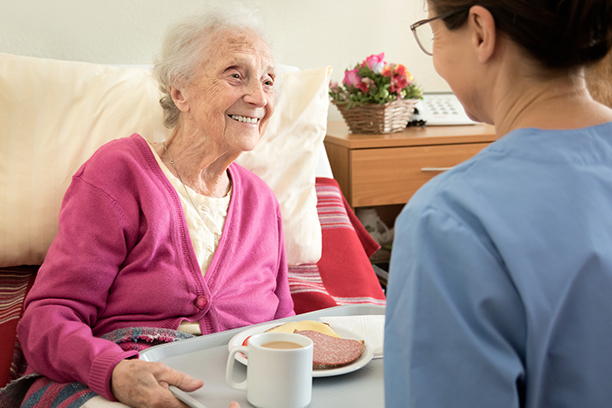 How Transitional Care in Greenville Reduces Hospital Readmissions
Ready-Set-Go Home with Transitional Care
Transitional care can be a huge help for seniors who are at risk of a hospital readmission. At Visiting Angels® Greenville, we seek to support elderly adults with their transition home from the hospital as well as their recovery process through our Ready-Set-Go-Home program. Utilizing a three-prong approach to care, this program helps give seniors the comprehensive assistance and care they require during the particularly sensitive time before and after a hospital discharge.
Why is Transitional Care Important?
Transitional care is important because the rate of rehospitalizations is quite high among seniors. Nearly 20% of elderly adults on Medicare have been reported to be rehospitalized within their first month home from the hospital. This cycle is not only expensive and exhausting, but it can also lower seniors' overall chance of making a full recovery.
In many cases, the reason behind hospital readmissions is simple: elderly adults often aren't able to implement their doctors' orders without outside help. As a result, their overall well-being suffers and they must return to the hospital. One solution to this problem is to have a plan in place before the discharge that includes arranging the specific forms of support the senior will require to maintain their well-being and avoid rehospitalization.
How Visiting Angels Greenville Helps
Our transitional care program is initiated while care recipients are in the hospital, before their discharge ever takes place. That way, we can help them prepare for the upcoming changes and coordinate with their family members. During this time, we provide families with our Ready-Set-Go Home discharge guide to instruct them on important conversations they should be having with the senior's physicians.
The second step is to care for the senior when they return to their home. We help care recipients with their daily routines and also assist them with adhering to doctors' advice. For example, we can provide medication reminders, accompany seniors to doctors' appointments, and offer much-needed mobility support.
Our team works behind the scenes at our local care agency's office to ensure seamless delivery of care. We work with innovative tools to identify those who may be at a high risk of rehospitalization and also coordinate the logistics of care.
Help your loved one make a successful transition home by getting started with transitional care services from Visiting Angels Greenville. Call today to request a free consultation in Greenville, Mauldin, Powdersville, Greer, Simpsonville, Travelers Rest, or a nearby town.
Serving Communities in Greenville County, SC
Visiting Angels
GREENVILLE, SC
236 Adley Way
Greenville, SC 29607
Phone: 864-284-6370
864-284-6372
Fax: 864-284-6379