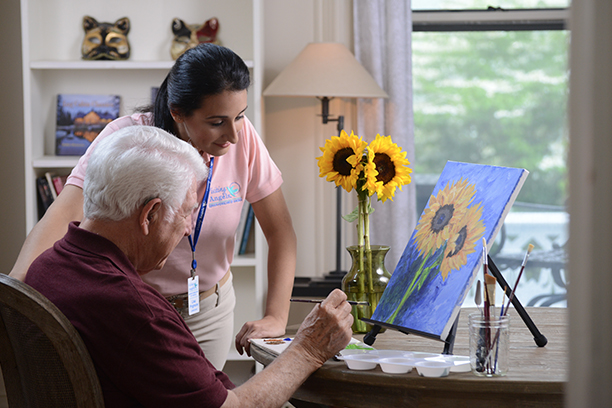 Respite Care in Horseheads
Family caregivers who feel overwhelmed by their many responsibilities and a chaotic schedule can often benefit from taking a break. However, these individuals don't always know how to ensure their loved ones receive care while they are taking time off. Professional respite care services help resolve this issue and allow family caregivers in the Horseheads community to recharge their batteries and find balance in their relationships.
At Visiting Angels® Horseheads, we have built deep personal connections with family caregivers in the local community and understand how difficult it can be to constantly tend to the needs of someone you love. As much as you want them to thrive as they grow older, you also need time to address your own needs. Stepping away from your role as an unpaid family caregiver is an important part of protecting your well-being and preserving your ability to provide your loved one with high-quality care over the long run.
What is Respite Care?
At Visiting Angels Horseheads, we have designed our respite care services to help family caregivers have the flexibility they often yearn for. As a result, visits from our care providers can be scheduled as needed, whether that is for a few hours, a few days, or even weeks. This enables family caregivers to take time off to run errands, meet with friends, relax, or go out of town. When you have the knowledge your loved one is being supported by a care professional, you can fully disconnect from stress and enjoy the rest you deserve.
How Respite Care Helps Seniors in Horseheads
We help seniors go about their day-to-day lives while their family caregivers are taking care of other priorities in their lives. As we want to help as many families in the Horseheads area as possible, we do not limit respite care to care recipients with a certain set of care requirements. The services available include support with activities such as:
Getting dressed, showering, and grooming
Preparing meals or grocery shopping
Going to the pharmacy and appointments
Doing chores and household activites
Taking part in social events and hobbies
Keeping track of medication schedules
Getting Started with Respite Care
Take the first step towards a more balanced schedule and more energy for your caregiving duties. Contact our local office, and we will meet with you to answer your questions as part of a no-cost initial meeting.
Are you ready to book your free respite care consultation in Horseheads, Elmira, Corning, Hammondsport, Bath, or a nearby town? Call Visiting Angels Horseheads today!
Serving Elmira, Horseheads, Corning, Bath, Hammondsport and Surrounding Areas
Visiting Angels
HORSEHEADS, NY
168 Miller St. # B103
Horseheads, NY 14845
Phone: 607-846-2370
Fax: 607-398-2448