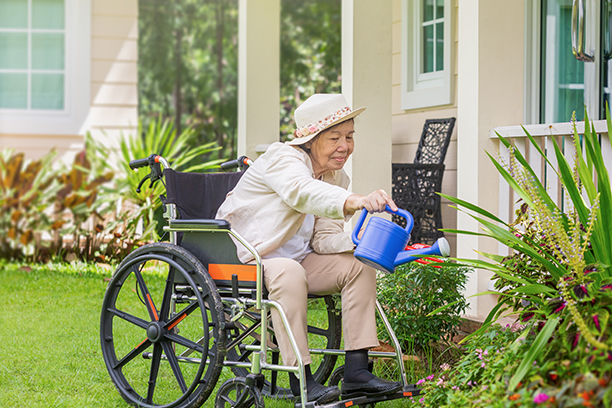 Home Care in Overland Park
Caring for an older family member? When the demands of caregiving become too much to manage, Visiting Angels® Kansas City can help. We provide compassionate home care in Overland Park and the surrounding areas to help seniors live more comfortably and fully. We also provide relief and peace of mind for the families who love them.
We are a locally owned care provider with close ties to the wider community. In addition to Kansas City, our caregivers also serve households in Overland Park, Prairie Village, Mission, Lenexa, Shawnee, and Leawood. We offer a vast selection of care services that we personalize to the needs of every client.
Every member of our care team shares our commitment to making each day brighter for local seniors and their families. We select caregivers who are kind, friendly, competent, and who demonstrate a passion for quality care. As a part of our selection process, we vet each candidate thoroughly and require them to pass a criminal background check.
About Our Home Care Services in Overland Park
Every family encounters different challenges when it comes to caregiving. At Visiting Angels Kansas City, we offer several forms of support that can be tailored to your loved one's needs, now and as they change. The services we provide can include the following:
Walking and transferring help
Medication reminders
Uplifting companionship and conversation
Errand running and grocery shopping
Basic household chores
Meal planning and prep
Dressing and bathing assistance
Family caregiver coverage
Your loved one's care needs don't disappear at night or on weekends, so your home care options shouldn't either. We can arrange care and any time day or night, including holidays, so you're never without the support your family needs.
How Our Home Care Process Works
At Visiting Angels Kansas City, our home care revolves around you. To introduce you to our services and ensure you receive the right type and level of care, we'll guide you through the following steps:
Having an initial discussion that touches on your care situation, the types of care we offer, and what the potential costs would be.
Meeting for a no-cost consultation, so we can get to know your loved one's needs and preferences, answer your questions and connect with the other family members involved in providing care.
Mapping out a custom care plan and schedule that will have the biggest impact on your loved one's quality of life — and provide the most relief for your family caregivers.
Finding the care professionals on our team who are best suited for your family based on their abilities, personality, and schedule.
Once care begins, we'll keep track of your loved one's condition and maintain continuous contact with your family to make sure we're on the same page. We understand that caregiving is a fluid process, so we'll be prepared to adapt and adjust your loved one's care as needed.
What is Companion Care?
Health issues, changing communities, and other factors can leave many seniors in the Overland Park area feeling isolated and lonely. This social isolation can impact your loved one's well-being physically and emotionally. As part of our home care services, our caregivers can provide warm, engaging companionship for your relative on a regular basis while they assist with other tasks.
What is Personal Care?
Does your loved one have trouble with everyday tasks at home due to cognitive health issues or physical discomfort? Our caregivers can assist with these activities so your loved one's needs are met without undue stress. As part of our personal care, we can help with the following:
Performing light housework
Offering physical support for transferring and walking
Getting dressed and bathing
Picking up groceries and handling other errands
Planning out and making meals
Providing reminders for essential medications
What is Social Care?
Through our social care service, we can empower your loved one to stay connected with friends and relatives who do not live in the Overland Park area. We'll help familiarize them with various social media channels, online tools, and video chat options.
About Our Alzheimer's Care and Dementia Care Services
Alzheimer's disease and other forms of dementia can pose significant challenges and risks for seniors living at home. Our Alzheimer's care and dementia care services can include the following specialized support:
Keeping seniors more mentally stimulated
Preventing wandering
Monitoring and noting changes in their condition
Providing reminders for medications and medical appointments
Accompany seniors to appointments and therapy sessions
Preparing regular, healthy meals
Our Respite Care in Overland Park
Feeling burnt out? You're not alone. Our home care includes respite care to give family caregivers the time they need to rest, recuperate, and reconnect with themselves outside of this role.
Our End of Life Care in Overland Park
With our end of life care, we can be there for your family during these stressful and emotional moments. If your loved one is approaching the end of life transition or the last stages of a terminal health issue, we can tend to their physical comfort and take on various tasks, so your family can make the most of your time together.
Our Palliative Care in Overland Park
We offer palliative care for clients in various stages of a serious illness, whatever their age or life expectancy may be. As well as helping your loved one feel more physically comfortable, we'll also promote the emotional, social, and spiritual well-being through this holistic home care service.
About our Safe & Steady Fall Prevention Program
The goal of our home care efforts is to help more seniors live independently. However, a bad fall can have a major impact on your loved one's ability to live safely at home. Our care professionals can identify your loved one's personal risk factors and suggest minor changes around their home. If your loved one has mobility issues, we can also provide walking and transferring support.
About our Ready Set Go Home Program
A hospital visit is stressful enough for seniors on its own. Unfortunately, rates of hospital readmission are highest within the first few weeks at home. We strive to reduce the risk of readmission by supporting seniors before they leave the hospital and once they've returned home.
Get Started with Home Care in Overland Park Today
At Visiting Angels Kansas City, we're here for you and your loved one. Call (913) 912-1260 to book a no-cost consultation for our essential home care services in the Overland Park area.
Serving Kansas City, Johnson County, North Kansas City and Surrounding Communities
Visiting Angels
KANSAS CITY, KS
8680 W 96th St #200
Overland Park, KS 66212
Phone: 913-912-1260
Fax: 913-912-1261