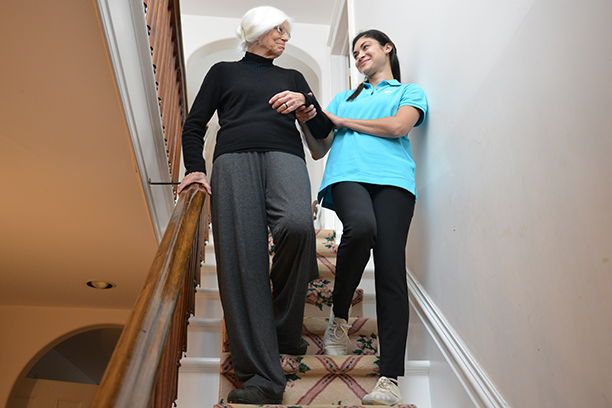 Trusted & Compassionate Living Assistance in Northern Kansas City
At Visiting Angels Kansas City MO, Character Counts!
When you find someone you trust to deliver living assistance services for your loved one in Northern Kansas City, you can have confidence knowing they are safe and secure. At Visiting Angels® Kansas City MO, we go above and beyond to ensure families have peace of mind when their loved ones are being cared for by our care professionals. We know you won't rest easy until you've found a care solution that truly benefits your loved one's quality of life, and we're here to help you do just that.
Our Living Assistance Agency Cares About Character
The well-being of seniors is our main focus. As a result, the character of the professionals who care for them is also a top concern. To bring our vision of high-quality at-home living assistance to life, we must first find care providers who can uphold our standards and build meaningful relationships with clients. Doing so requires strong character, integrity, and a heart for helping others.
We have thus built our caregiver recruitment process around the importance of character traits like compassion, kindness, and patience. Our caregiver hiring practices prioritize these criteria at every turn, enabling us to build a team we fully trust to deliver the quality of care we would want for our own family.
Connecting Families With Living Assistance Providers in Anniston
When you reach out to our living assistance agency in the Northern Kansas City area, you will quickly note that we are willing to go the extra mile to assist your loved one. First, we'll go about answering your questions as part of a free consultation. Then, we'll start creating your loved one's personalized care plan.
The final step is to match your loved one with a care professional from our trusted team. We believe it is crucial for these matches to be made based on personality chemistry, lifestyle preferences, and other factors that can affect the senior's experience of care. We have a history of making solid caregiver-care recipient pairings that result in lasting relationships built on trust. However, if you ever feel that the caregiver we've chosen isn't quite right for your loved one, you will always have the final say in who helps them age in place.
Learn more about why families in Northern Kansas City, St. Joseph, Ferrelview, Gladstone, Houston Lake, Parkville, Lake Waukomis, Northmoor, Platte Woods, Riverside, Weatherby Lake, and nearby towns trust our living assistance providers. Contact Visiting Angels Kansas City MO today to request a free consultation!
Serving Kansas City, North of the River and the Surrounding Area
Visiting Angels
KANSAS CITY, MO
5600 NE Antioch Road
Gladstone, MO 64119
Phone: 816-768-0268