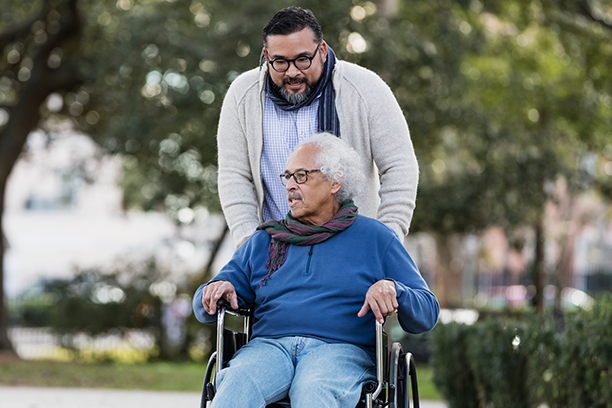 How Transitional Care in Kansas City Reduces Hospital Readmissions
Ready-Set-Go Home with Transitional Care
With the help of our specialized transitional care program, elderly adults in Kansas City can benefit from dedicated support following a hospital discharge. Our compassionate caregivers provide personalized assistance with a wide range of activities, promoting seniors' recovery. In addition, the experts at our local office assist families with planning for the care recipient's transition from hospital to home.
At Visiting Angels® Kansas City, we understand what a huge risk re-hospitalizations can be for seniors. Twenty percent of Medicare patients return to the hospital within one month of their initial discharge. Unfortunately, a senior's chance of making a full recovery shrinks significantly when they are readmitted to the hospital during this 30-day window. Our services help elderly adults avoid preventable hospital readmissions by providing them with professional in-home support. These services are an excellent option for seniors in Kansas City, St. Joseph, Riverside, Gladstone, Parkville, Weatherby Lake, and nearby towns who will soon undergo a hospital discharge.
Causes of Readmissions and the Importance of Transitional Care
The overwhelming majority of readmissions can be avoided simply by following the specific instructions and medical directives provided by doctors upon discharge. However, adherence to these rules is easier said than done for seniors with limited mobility and memory disorders. Even those who are typically able to look after their own well-being may find that basic activities of daily living are a challenge to complete alone as they recover from a serious illness or injury.
This situation shows why transitional care can be such a huge help for seniors in Kansas City. With dedicated assistance from a professional, they can properly adhere to doctors' orders and confidently embark on the road to recovery.
How Visiting Angels Kansas City Can Help
Ready-Set-Go Home, our transitional care program, can be tailored to the unique needs and circumstances of each client. Our three-prong approach consists of multiple forms of support, including:
Support during hospitalization. Transitional care starts at the hospital. Our caregivers help seniors in Kansas City and their loved ones prepare for the discharge and reduce risks along the way.
Support at home. During recovery, caregivers provide physical assistance with daily activities and offer crucial reminders to take medications, drink fluids, and follow medical directives.
Support from our office. We work in conjunction with caregivers to facilitate deliveries, organize schedules, and identify high-risk clients with our innovative in-office tools.
Learn more about getting started with transitional care today. Contact Visiting Angels Kansas City North to arrange a free consultation.
Serving Kansas City, North of the River and the Surrounding Area
Visiting Angels
KANSAS CITY, MO
5600 NE Antioch Road
Gladstone, MO 64119
Phone: 816-768-0268