Getting through Grief: Helping a Loved One Cope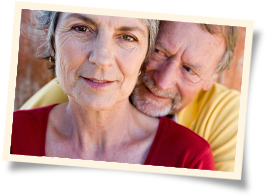 It goes without saying that death is a complicated and often devastating emotional experience. When someone close to us is grieving, the first thing we often ask ourselves is how we can help. But when the grieving person is a parent or relative, and the deceased was someone we were also close to, this process becomes even more complicated. Not only do we struggle with how to help our loved one cope with their loss, we also struggle with prioritizing their grief against our own.

The most important thing to remember about grief is that it isn't something easily fixed – and it shouldn't be. Grief is a process, one that's vitally important to the grieving person's emotional health and well-being. This might seem obvious. But when we're faced with a grieving person or our own grief, our first impulse is often to ask how the grief can be stopped. Instead, we should ask ourselves how we can support our loved ones (and ourselves) through grieving.

It's also important to remember that everyone grieves differently. As the American Hospice Foundation points out, it's often easy to forget that losing a spouse is different than losing a parent (or step-parent, uncle, or aunt). Keep in mind that your loved one's grieving process will be different than your own.

With that considered, here are some of the ways you can help a loved one grieve:
Be open to their feelings: Sometimes, well-meaning advice on how a person should feel or react does far more damage than good. Being a receptive, non-judgmental, and compassionate listener can help your parent or relative work through how they feel.
Don't be afraid of silence: If your loved one isn't comfortable talking, don't force the issue. People often underestimate the power of providing silent company.
Give them time: Experts in grief regularly stress that there is no model or standard timeline for grieving. It is important to let a loved one take grieving at his or her own pace.
Help with errands, everyday tasks, and other responsibilities: One of the best ways to make grieving easier is to make other parts of life easier. Shopping for groceries, looking after pets, and help with household chores and responsibilities can help ensure your loved one doesn't feel overwhelmed.
Allow yourself to grieve: Your own emotional well-being is just as important as your loved one's. Sometimes, it can be easy to distract yourself from your own pain by attending to the grief of those around you. But it's important to remember that you will be more help to those around you if you allow yourself to work through your feelings instead of avoiding them.

Finally, remember that just as no two people grieve exactly the same way, there is no right or wrong way to grieve. Above all else, the best thing you can do for a person in grief is to support them: to let them know their grief is normal and understandable, and that they are not alone.

If you're interested in our compassionate
home care
services for you or a loved one, contact your nearest Visiting Angels
home care agency
today or call 800-365-4189.