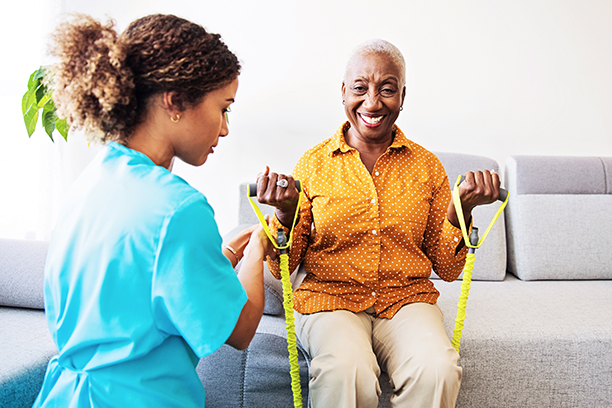 Home Care in La Mesa
When you're worried a loved one is no longer managing well on their own, starting a search for home care in La Mesa can feel overwhelming. At Visiting Angels® La Mesa, we offer personalized care services that can make your loved one's daily life simpler, safer, and more enriching. We can also provide support and peace of mind for family caregivers and other concerned relatives.
For years, our dedicated care professionals have been helping seniors in La Mesa, San Diego, National City, and Lemon Grove achieve their dream of aging in place. Based on your loved one's unique needs and situation, we can provide personal care, Alzheimer's care, companion care, or even help them make a smooth transition home after a hospital stay.
We value the trust our clients and their families place in us, so we reward that trust each day by providing the highest standard of care. Our caregivers all share our commitment to every client's comfort and well-being. They have also all gone through our in-depth vetting process, so you can rest assured your loved one will be in good hands.
About Our Home Care Services in La Mesa
Our home care can take whatever form your loved one needs to live comfortably — and whatever you need for greater peace of mind. Whether it's occasional help with errands or around-the-clock monitoring and support, our care professionals are here to help.
Depending on the situation, our caregivers can help with any of the following:
Meaningful companionship
Routine housework
Grocery shopping and errands
Meal plans and preparation
Medication reminders
Using the restroom, bathing, and getting dressed or changed
Walking at home and between locations
How We Approach Custom Home Care in La Mesa
To provide the greatest possible improvement and relief, your loved one's home care should be tailored to their needs and those of your family. Since these needs are bound to change over time, your home care should be adaptable too.
At Visiting Angels La Mesa, we offer flexible home care services that are personalized for every family we serve. Our caregivers are available 24 hours a day, every day, so we can accommodate any schedule.
To create your family's custom care plan, we'll take you through the following process:
Initial call — Contact our office to learn about our services, talk about your loved one's potential needs, and discuss rates. At this point, we can schedule a no-cost consultation.
Consultation — A care professional can visit your loved one's home to conduct an in-depth assessment of their needs, preferences, and care situation, including the family members involved. This will provide the framework for your loved one's care plan.
Plan building — We'll establish a custom home care plan and ideal care schedule, so your family receives the right support for your current needs, with the understanding that we can monitor your loved one's condition and adapt to any changes.
Caregiver selection and approval — We'll determine which caregiver would be the best fit based on their personality, schedule, and abilities. We can then set up a meeting, so your family can give your approval.
What is Respite Care?
While it may be easy to keep up with your loved one's needs at first, caregiving can quickly become too much to handle without help. We provide temporary respite care, so family caregivers can rest without worrying about their relative.
What is Personal Care?
Have you noticed that your elderly parent is having a harder time with household tasks? Maybe you've noticed more clutter around the house than before, or noticed that your loved one looks a bit disheveled. Many aspects of aging make routine tasks much harder, but our personal care services can help.
As part of our care, our caregivers can step in to help with the simple necessities of life your loved one is struggling to manage. This includes:
Bathing and dressing
Cooking
Tidying up
Support while walking
Reminders for prescriptions
Getting groceries
Providing Companion Care and Social Care
Our social circles tend to get smaller as we get older, but if your loved one is too isolated, it may affect their health. Social isolation contributes to depression and self-neglect, so we offer our companion care and social care services.
With our companion care, your loved one can receive the physical help they need while benefiting from the company and conversation of our friendly caregivers. Over time, your family member may come to see their caregiver as a dear and welcome friend.
To help your loved one stay connected to friends and family they can't see in person, we can teach them how to use video chat and other technologies with confidence.
Our Specialized Alzheimer's Care and Dementia Care
Seniors who are grappling with cognitive decline can find it harder to adapt to new surroundings. We offer specialized support to help clients with Alzheimer's disease and other dementia types remain in their homes safely.
Dementia care or Alzheimer's care can include the following:
Reminders for medications and appointments
Regular mental stimulation
Wandering prevention
Preparing regular meals
Monitoring for changes in condition
Creating as calm an environment as possible
Our Fall Prevention Support
As well as helping your loved one with their current challenges, our care also includes preventative care. Falls are a serious concern among older adults. More than 25% of older adults fall per year, which can lead to a major injury. To help reduce your relative's fall risk — and help them feel safer in their own home — we created our Safe & Steady Fall Prevention Program.
Our care professionals can help you identify and address potential risk factors. For example, if your relative has poor eyesight, we may recommend extra lighting or distinct markings on the edge of any steps in their home. We can also include walking support, tidying up clutter, and other services to their care plan.
Our Program to Reduce Hospital Readmissions
Whether due to unclear discharge instructions, poor follow-up, or an overall lack of support, many seniors who are hospitalized end up being readmitted within their first month home.
We address this common issue with our Ready-Set-Go Home Program. We can help you clarify your loved one's care needs while they're still in the hospital, assist your loved one when they get home, and look out for any possible complications.
Our Palliative and End of Life Care Options
If someone you love is struggling with a complex medical issue, or approaching the end of life transition, our care professionals can help ease their discomfort and give your family the chance to spend meaningful time together.
While our end of life care is available to support families at this difficult time of transition, our palliative care is open for anyone with a serious condition who could benefit from spiritual, physical, cognitive, and social support — no matter their life expectancy.
Get Started with Home Care in La Mesa Today
We are here for you. To find out more about how home care supports families in La Mesa, San Diego, and Lemon Grove, call (619) 493-3796 to book a consultation.
Serving La Mesa, Lemon Grove, National City, San Diego, Spring Valley and Surrounding Areas
Visiting Angels
LA MESA, CA
5500 Grossmont Center Dr #201
La Mesa, CA 91942
Phone: 619-493-3796
Fax: 619-303-8222