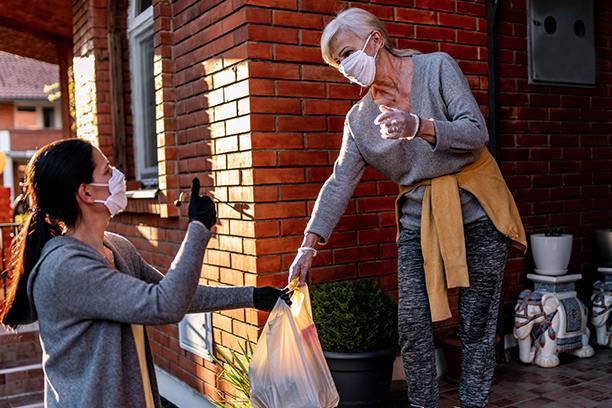 Home Care in National City
Has your loved one made the choice to remain at home as they age? If it is important to your loved one to stay in a familiar environment, home care can help. Home care services make aging in place in National City a safe and comfortable possibility. At Visiting Angels® La Mesa, we work with seniors who face all kinds of age-related challenges, disabilities, and daily difficulties. We can personalize the care we offer according to your loved one's living situation, as well as their preferences, to promote their comfort.
As a community-oriented care agency that has built a reputation for delivering reliable and compassionate support for seniors, we have experience working with families in many different situations. No matter what your loved one's circumstances currently look like, you can rely on us to help find a care solution that gives you both peace of mind.
You can rest assured that our team of caregivers is bonded, insured, and has undergone a strict vetting process. As a result, we are confident that each of our caregivers can deliver high-quality services that benefit the lives of seniors and their family caregivers in:
National City
Spring Valley
And throughout the surrounding areas

About Our Home Care Services in National City
We'll go above and beyond to help your family with the many aspects of caring for your loved one. From meeting their social needs to providing physical assistance with Activities of Daily Living (ADL), we can ensure they receive well-rounded care that suits their aging journey. Additionally, as their needs and desires change over time, we can further tailor the care we offer and continue to improve their quality of life.
Our wide range of senior care services includes forms of support such as:
Help with showering, getting dressed, and grooming
Running errands to the pharmacy and grocery shopping
Building personal connections for meaningful social interaction
Providing transportation to and from appointments
Taking care of light chores and cooking meals
Offering reminders to take medications
Ensuring family caregivers can take time off
Our care professionals are ready to help your loved one according to their daily routine and your family's other scheduling requirements. Care visits can be scheduled on any day of the year on a 24/7 basis, facilitating continuous access to the crucial support your loved one needs.
Our Home Care Process in National City
The path to getting started with home care is simple and straightforward. We will always work to minimize your stress along the way and find the very best solution for your family. Here's how:
Call our office. We encourage you to pick up the phone and contact our local office. We can answer basic questions about our services and fees and then schedule a time to meet with you for a more in-depth conversation.
Take part in a free consultation. This conversation will take the form of a no-cost, no-obligation care consultation. In addition to addressing all of your inquiries and concerns, we will start to learn about your loved one's life and preferences so we can make suitable suggestions for their care plan.
Assist with creating a care plan. By working alongside your family to develop your loved one's care plan, we can finalize a detailed program of care that meets their many needs, including the services we will provide and a schedule of care visits.
Enjoy a personalized caregiver match. We always take seniors' personalities and lifestyles into account when connecting them with a caregiver from our team. This helps ensure there's a solid foundation upon which a lasting personal connection can be built.
Types of Home Care Available in National City
Our home care services include specialized programs targeting different challenges that arise during the aging process. For examples of some of our most popular care types, take a look at the list below.

Companion Care Services
Companion care is intended for elderly adults who need a helping hand every now and then, as well as increased social interaction to avoid loneliness and isolation. Companion care providers can cook meals for seniors, take them to doctors' appointments, help them run errands, and more.
Personal Care
Chronic conditions and mobility limitations are common among seniors. When these factors limit your loved one's ability to look after their own well-being, independent living can be a huge challenge. Personal care allows seniors to benefit from direct support for daily tasks and thus remain at home for longer.
Dementia Care and Alzheimer's Care
A memory disorder diagnosis can be the beginning of a difficult road for both seniors and their families. Remaining in a familiar environment can make this journey a bit easier and more comfortable for elderly adults. With our dementia care and Alzheimer's care services, seniors can receive in-home support specialized according to the progression of the specific memory disorder they are dealing with.
Safe & Steady Fall Prevention
Falls are one of the most frequent causes of severe injuries among elderly adults. Fall prevention is thus a crucial part of aging in place safely and for the long term. Our fall prevention program includes help with fall-proofing the home, mobility support, and personalized fall safety tips to minimize the risk of a fall.
Ready, Set, Go Home Transitional Care
Seniors often struggle to get back on their feet after a hospital stay, and many end up being rehospitalized. With our transitional care program, your loved one can have dedicated assistance as they are discharged and start recovering at home.
Palliative Care
Seniors who have serious health concerns often crave care that goes beyond a physical level. Our palliative care takes a holistic approach to comforting seniors by providing emotional, spiritual, and social support in addition to easing their physical discomfort.
Get Started with Home Care in National City Today
Our team at Visiting Angels La Mesa is ready to help your family. Call (619) 493-3796 today to schedule a free home care consultation in the National City area.
Serving La Mesa, Lemon Grove, National City, San Diego, Spring Valley and Surrounding Areas
Visiting Angels
LA MESA, CA
5500 Grossmont Center Dr #201
La Mesa, CA 91942
Phone: 619-493-3796
Fax: 619-303-8222