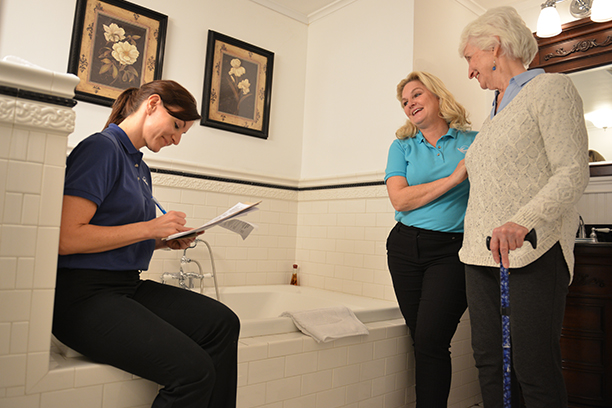 How We Assist With Aging in Place in Lansing 
When a loved one's age-related challenges start to hinder their ability to live independently, you may wonder if it is necessary to move them to an assisted living facility. However, age-related difficulties don't have to signal the end of aging in place. The compassionate care professionals at Visiting Angels® Lansing can support your loved one through their daily routines, helping them maintain their autonomy at home for as long as possible.
The Importance of Aging in Place
AARP has reported study results showing that almost 90% of Americans older than 65 show preferences for aging in place over moving to nursing homes or assisted living centers. The issue is that without outside help, these individuals can struggle to live safely and comfortably at home in Lansing.
However, when seniors have access to in-home care, they also gain the freedom to live life at home on their own terms. This ability brings along a wide range of benefits. For example, older adults who age in place can stay in a comfortable, familiar, and personalized environment that allows them to feel safe and secure. They can also continue engaging in their favorite social activities, pastimes, and daily rituals. These routines can be crucial to their overall well-being and the preservation of their sense of self.
In-Home Care vs. Assisted Living
Assisted living is often seen as an alternative to in-home care. However, this care situation requires seniors to make a major move away from the home environment they've established for themselves. In the process, they may lose their ability to call the shots about their own schedule and the activities they participate in. In addition, they may risk exposure to contagious illnesses, which are more prevalent in shared living facilities.
How We Help Families in Lansing
At Visiting Angels Lansing, we know exactly what it takes to help seniors age in place, whether they're dealing with senior isolation, Alzheimer's disease, mobility limitations, cognitive decline, or other age-related concerns. Our flexible services are tailored to the needs and scheduling preferences of each individual and are always delivered by capable care professionals who are passionate about helping seniors live their best lives.
Learn more about what we can do to help make your loved one's dream of aging in place a reality. Just contact Visiting Angels Lansing to request a free consultation in Lansing, Chelsea, Hamburg Township, Manchester, Dexter, Stockbridge, Williamston, or a community in the surrounding areas.
Serving Lansing, Chelsea and the Surrounding Areas
Visiting Angels
LANSING, MI
2175 Jolly Rd #3
Okemos, MI 48864
Phone: 517-709-2240
Fax: 517-827-4930