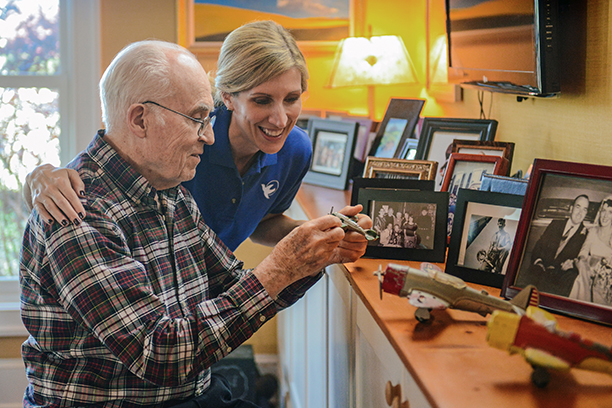 How We Assist With Aging in Place in Las Cruces
When you have an elderly loved one who holds their independence dear to their heart, you may not know where to turn. However, aging in place doesn't have to be a struggle for them, even if they are managing difficult symptoms or coping with various age-related challenges. Visiting Angels® Las Cruces works to help seniors age in place easily, comfortably, and while living life to the fullest. Our services can enable your loved one to have a more enriching experience of their golden years and a home life that brings them joy, all while they benefit from professional care.
The Importance of Aging in Place
When you know how important aging in place is to seniors, you may not be surprised to hear the AARP report that 9 out of 10 would prefer to live in their own homes as long as they can. Staying at home in Las Cruces comes with advantages ranging from the comfort of familiar surroundings to the convenience of established routines and the ease with which seniors can maintain their place in the community. Acknowledging these benefits is the first step to understanding why many elderly adults are determined to stay in their own homes, even when they have difficulty remaining independent.
In-Home Care vs. Assisted Living
Your family may be considering assisted living as a solution to your loved one's care needs. However, it's important to keep the differences between assisted living and in-home care in mind. Moving to an assisted living center can bring a sense of uncertainty to the lives of seniors during a time when they are already dealing with so many new changes. The negative emotions that come with a traumatic move are accentuated by the need to adjust their daily rhythm to fit the schedule of the facility, which can make them feel they've lost their autonomy overnight.
How We Help Families in Las Cruces
Help with aging in place is near if your loved one lives in Las Cruces or a neighboring community. We assist seniors through personal care, companionship, mobility assistance, dementia care services, and more. Most importantly, the care we provide is customizable and can fit any living situation to promote the well-being of care recipients in different circumstances.
Ask to book a free care consultation in Las Cruces, White Sands, La Mesa, Vado, Chaparral, Anthony, Alamogordo, Cloudcroft, or the surrounding areas today to learn more about how our caregivers help with aging in place!
Serving Las Cruces and Surrounding Areas
Visiting Angels
LAS CRUCES, NM
1990 E Lohman Ave #107
Las Cruces, NM 88001
Phone: 575-222-1183