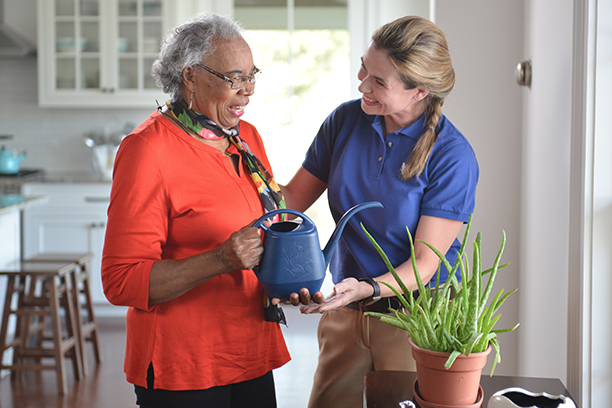 How Transitional Care in Las Cruces Reduces Hospital Readmissions
Ready, Set, Go Home with Transitional Care
The move from a hospital stay back to the comfort of home isn't always as easy as seniors expect it to be. When they have lingering issues related to an illness or injury, they may not be able to jump right back into an independent lifestyle without running certain risks. Ready, Set, Go Home, the transitional care program available through Visiting Angels® Las Cruces, helps seniors in these circumstances stay safe and comfortable as they prepare for, undergo, and recover from a hospital discharge.
Understanding the Need for Transitional Care
Did you know that a significant percentage of seniors return to the hospital within only thirty days of leaving? In fact, nearly one in five of those on Medicare are rehospitalized in this one-month window. To address the issues that cause rehospitalizations to be such a common issue among elderly adults, we have created our comprehensive Ready, Set, Go Home program.
Following a stay in the hospital, older adults often find themselves facing a period of functional decline upon their return home. While they may have been able to fully look after themselves before their hospitalization or at least complete some basic tasks on their own, these same activities may feel overwhelming or drain them of energy in their current state. Having a caregiver who understands their situation and is ready to offer the physical and emotional support they need to recover safely can play a significant role in their avoidance of complications and ability to stay out of the hospital.
Transitional care from Visiting Angels Las Cruces includes a wide range of home care services that give care recipients the helping hand they need to focus on recovering and slowly get back into their normal rhythm. For example, caregivers can perform basic chores, cook healthy meals, remind seniors to take medications, accompany care recipients to their doctors' appointments, and more.
Getting Started With Transitional Care in Las Cruces
When your loved one gets started with our transitional care program, one of our care coordinators will meet with your family at the hospital to begin putting a plan into place for their discharge, We'll also give you our Ready, Set, Go Home discharge planning guide so that you have all the resources you need for the weeks ahead.
To learn more about getting started, contact Visiting Angels Las Cruces today and request a free transitional care consultation.
Serving Las Cruces and Surrounding Areas
Visiting Angels
LAS CRUCES, NM
1990 E Lohman Ave #107
Las Cruces, NM 88001
Phone: 575-222-1183