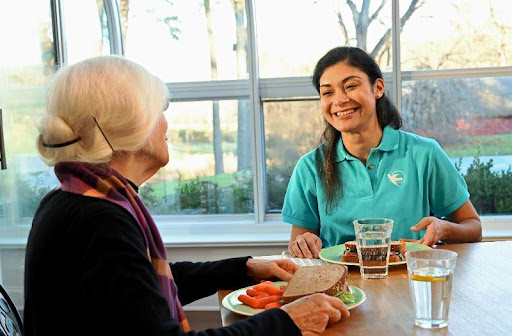 Companion Care Services Can Reduce Loneliness in Seniors
Loneliness can be a complex and often debilitating emotion that affects many seniors. These feelings can be challenging for an aging person to cope with, leading to feelings of isolation and depression. However, companion care services offer an effective solution to combat feelings of seclusion and promote healthy connections.
Here's how companion care services can reduce loneliness in seniors.
What Are Companion Care Services?
Companion care is a type of home care service designed to promote social interaction for seniors. These services are tailored to meet each client's specific needs and may include playing games, support running errands, relationship building, and other activities that help aging adults stay connected.
Furthermore, companion care also provides assistance with everyday tasks such as meal preparation and light housekeeping—allowing seniors to remain in their homes longer.
These services are great for seniors living far away from loved ones or those without a solid support system.
The Negative Effects of Loneliness
Studies have shown that a lack of human connection can have severe physical, mental, and emotional impacts on one's health. Not only does it lead to feelings of loneliness, but it can also increase stress levels, leading to more frequent bouts of illness and unhappiness.
Additionally, social isolation can cause:
An increased risk of dementia, heart disease, and other health issues
Depression and anxiety
More hospitalizations and emergency room visits
Poor physical health
Cognitive decline
Social connections are essential to physical and mental well-being, especially as we age.
The Benefits of Companion Care Services
By providing friendship and meaningful interactions with others, companion care services can reduce these symptoms and improve quality of life. Moreover, regular interaction can ease feelings of anxiety or isolation—providing support when family members are unavailable or unable to visit often.
Here are some other benefits of companion care services.
Safety
A trained caregiver can provide a sense of security for seniors and their families. When aging loved ones are isolated from the outside world, there's a greater risk of accidents or falls due to lack of supervision.
However, with companion care services, seniors can receive quality assistance in the comfort of their own homes. Having someone familiar with the space offering support can reduce fall risks, help avoid medical emergencies, and create peace of mind.
Emotional Support
Seniors are often lonely after experiencing loss, whether it's a spouse, siblings, or close friends. Having someone who understands is essential for emotional health because it provides an outlet for conversation and expression.
Additionally, home care providers can provide an outlet for physical activity and encourage participation in hobbies or other activities that promote self-esteem, creativity, and mental stimulation.
Help Around the House
Unfortunately, many seniors living at home don't have the physical or mental capacity to take care of all their daily tasks. Having someone who can help with meal preparation, housekeeping, and transportation can make life easier and help seniors maintain their independence. Plus, it can relieve family members of the burden of managing these tasks.
Conclusion
Companion care services offer numerous benefits for seniors who may feel lonely or isolated. From assisting with everyday tasks like meal preparation to providing emotional support, home care providers can help aging adults retain their independence.
At Visiting Angels Leominster, MA, we understand how important it is for your senior loved ones to remain connected and active in their community. Contact us online today or call 978-227-5263 to learn more about how companion care services can help your family.