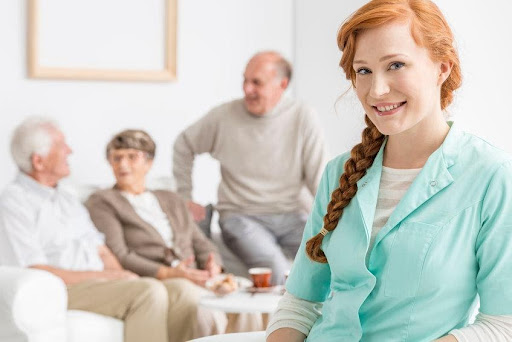 What It's Like to be an In-Home Caregiver
Although no two days are the same, professional caregiving is a rewarding job in which no day is the same as the next. If you have a passion for caring for others and love working in a challenging and ever-changing industry, a role at Visiting Angels Leominster may be a great choice for your next career journey.
Unlike a retail or office job, a position as a professional senior caregiver has a certain level of irregularity. Depending on what type of care services you perform and your time commitment, your day could be relatively similar each day or wildly different. This role is an excellent option for individuals who want to help others and aren't interested in sitting behind a desk all day!
For those looking to change careers or make their full-time job something more fulfilling, read on!
Visiting Angels Caregiver Roles
Personalized care is one of the many reasons our clients love working with their caregivers. We aim to give each family precisely the type of services they need and a caregiver whose skills match what they need for their senior loved one. Some types of care include:
Companion care
Private duty or personal care
In-home care
Medication reminders
Respite care
Our clients choose how often they need care– full-time, part-time time, 24/7, or on-demand. With so many options, our caregiving team can work in the areas they love and schedule their time around other responsibilities, like family or volunteer work.
As you can see, this leaves a lot of room for change and excitement. One thing our Visiting Angels Leominster team can say: their roles aren't boring!
A Day in the Life of a Visiting Angels Caregiver
The variety of care options means each caregiver may take on different roles on any given day. Here's a sample of what a new caregiver could expect in these individual care roles.
Companion Care
Companion care provides social companionship, light housekeeping, meal preparation, and other day-to-day tasks. This type of care can be regularly scheduled or on-demand, full-time or part-time. A regular day may include fixing breakfast and lunch, working a puzzle or playing cards with a client, watching television, or looking at photo albums. As a companion caregiver, you may help your client with light cleaning or tidying up. Some clients also enjoy light exercise –for instance, a walk around the block or low-impact exercises in their home. Although your day may start or end at different times and activities vary from client to client, care sometimes looks like enjoying a friend's company over a cup of coffee.
Non-Medical In-Home Caregivers
In-home caregivers take on various tasks that help enhance the client's health and well-being while they stay at home as long as possible. Some of these include:
Bathing and grooming assistance
Mobility support
Basic housekeeping
Meal planning and prep
Medication reminders
In-home care includes temporary short-term 24/7 care, respite care for family caregivers, weekend, or holiday care, or 24-hour monitoring. Client families may also ask caregivers for help with errands, shopping, or delivery setup. In-home caregivers act as another set of hands to make light work.
A typical day may start with a grocery pick-up before a few hours of caregiving time. After fixing breakfast and putting away groceries, you may help your client get bathed and ready for the day. The afternoon could consist of tidying up and watching your client's favorite movie with them.
A second visit could look completely different! Your client's family may ask for help with their senior loved one while they go out of town for the weekend. In this case, you may be responsible for all meals, transportation to doctor's appointments, and overnight monitoring. When you're matched with a family for in-home care, you'll be able to help them while maintaining your schedule.
Join the Visiting Angels Leominster Team
If you're looking for an out-of-the-ordinary role and have a passion for helping the seniors in your community, we want to talk to you! Visiting Angels Leominster is searching for compassionate caregivers to work in areas of companion care, in-home care, and more! Are you ready to start a rewarding career with us? Visit the site to find out how to apply.