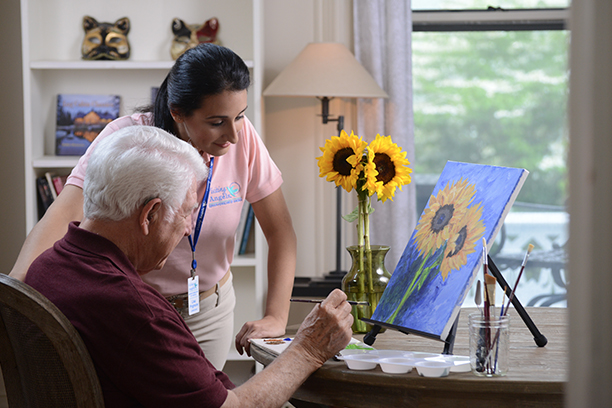 Long Term Care in Little Rock, AR
Visiting Angels Provides Long Term Care for Seniors in Little Rock, AR & Surrounding Areas
Visiting Angels in Little Rock, AR, and surrounding areas provides long term care to seniors. Our caregivers create solutions such as helping with getting dressed and moving around the home to help your senior live comfortably and with help throughout the years they continue to age. While aging at home, or with Alzheimer's, Parkinson's, Dementia, or cancer, daily tasks can become increasingly challenging for your loved one. That's where Visiting Angels is here to help make those daily tasks more possible! See how we can help your loved one today.
What is Long Term Care?
Long term care is a care plan built to support and help a senior over a length of time. Whether your loved one is aging at home or suffers from illnesses such as Parkinson's Disease, Alzheimer's Disease, or ALS, these services can help them continue to lead comfortable lives in their home with the safety and support our caregivers provide.
Long Term Care Services
These are some of the services but are not limited to ways our caregivers at Visiting Angels can help your loved one. All services can be tailored to fit your senior's specific needs and preferences.
Dressing and Undressing
Bathing and Grooming
Transferring and Positioning
Toileting and Incontinence
Meal Preparation and Feeding
Medication Reminders
Light Housekeeping
Transportation to Appointments and Events
Meaningful Companionship
No matter the needs of your loved one, our caregivers are here to help. As you create their personal care plan, all needs can match your customizable services so your loved one gets the care they need.
Long term home care is here to support your aging loved one. From physical wellness with taking walks, mental wellness with meaningful conversations, and more, our caregivers can help to provide this balance. Rest easy knowing your loved one is in good hands with Visiting Angels in Little Rock, AR.
Contact Visiting Angels
Contact us at Visiting Angels in Little Rock, AR, and surrounding areas. Go online or give us a call right away to meet and start creating your personal care plan today.
Serving Little Rock, North Little Rock, Maumelle, Sherwood, Jacksonville AR
Visiting Angels
LITTLE ROCK, AR
14 Office Park Dr #102
Little Rock, AR 72211
Phone: 501-225-5100
Fax: 501-225-5102