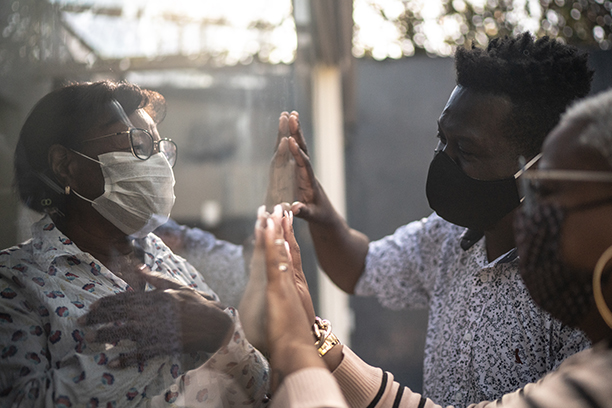 Visiting Angels Helps Seniors Age in Place
Visiting Angels personalizes home care services to make aging in place possible for seniors across the country. As one of America's leading home care providers, Visiting Angels knows how important it is for your senior loved one to age safely and comfortably at home. At the same time, this can be difficult to achieve without the support of professional caregiver services.
Although many aging adults prefer to spend their golden years at home, remaining at home can be challenging. As your loved ones grow older, they may lose mobility, strength, and coordination, while day-to-day activities—such as grooming, housekeeping, and meal preparation—can be difficult or unsafe. As a result, many seniors lose their independence.
Visiting Angels' popular home care services can assist older adults and the elderly, including those faced with physical or cognitive challenges. Specialized services, such as Alzheimer's care and dementia care, are available for individuals with advanced care needs.
Seniors can remain safe and protected at home and preserve their independence for as long as possible. This way, your loved one can spend time where they feel most comfortable—home.
The Benefits of Aging in Place
According to a study conducted by the AARP, nearly 90% of Americans over the age of 65 prefer to remain in their own homes for as long as possible. But without professional personal care, many struggle to maintain their independence.
Assisted living, an alternative to in-home care, requires moving into a retirement home or community. Although assisted living or nursing home care may be the right choice for some older adults, many can safely remain at home — even if they are living with dementia or another health condition.
The benefits of aging in place at home include:
Comfort and security
Seniors get to live in a secure and comfortable environment without the hassle of relocating to a family member's home or an assisted living facility.


Familiar surroundings and routines
From sitting in a favorite chair to individual mealtime preferences to nightly neighborhood strolls, seniors can maintain their routines in familiar surroundings.


Lower cost
Home care costs can often be provided for a fraction of the rate of 24/7 assisted living or nursing home care. Additionally, assisted living facilities, nursing homes, and senior communities often require a large, up-front cash deposit — and your loved one may even need to work their way to the top of a lengthy waiting list before they can move in.


Flexibility
Visiting Angels allows older adults and their loved ones to customize their care schedule, so they can receive help when needed and avoid paying for unnecessary services and amenities.


Companionship
Visiting Angels' caregivers provide companionship and social interaction, which can reduce the risk of social isolation, depression, and anxiety. A professional caregiver can also encourage your loved one to stay connected to friends and relatives through FaceTime, Zoom, or other platforms, as well as facilitate in-person visits.


Personalized, one-on-one care
Staff at assisted living facilities often care for more than one older adult during each shift. In-home personal care will allow your older adult to receive one-on-one care tailored to their unique needs.


Reduced risk of falls, injuries, and household accidents
Visiting Angels' caregivers are trained in fall prevention and will take precautions to help your loved one to remain safe at home. A home care worker can assist with cooking, light housekeeping, and personal grooming to decrease the risk of injuries and accidents in the kitchen or bathroom.


Lower risk of contagious illness
Living in an assisted living facility or nursing home — where residents may dine together, share public spaces, and have contact with multiple care providers — can increase the risk of contracting contagious illnesses, such as colds, flu, and gastrointestinal viruses. In-home personal care may reduce the risk of contracting an infectious illness by limiting close contact with multiple people, especially during cold and flu season.
How Visiting Angels Can Help
Visiting Angels has been helping seniors across the nation age in place for more than 25 years. Professional senior care services are provided by bonded, insured professional caregivers and help older adults live at home safely and comfortably, whatever their situation.
Dedicated caregivers make this possible by assisting seniors with tasks and activities that have become difficult or unsafe to perform on their own, including:
Grooming
Dressing
Bathing
Toileting
Errands
Cooking and meal preparation
Laundry
Light housekeeping
Mobility and transfers
Medication reminders
Incidental transportation
At the same time, caregivers provide seniors with companionship and conversation, helping those who would otherwise be at risk for social isolation. Professional caregivers also help families spend more quality time together by providing much-needed relief for family caregivers. The at-home assistance enables older adults and their families to concentrate on enjoying each other instead of focusing on light housekeeping and personal care responsibilities.
Your loved one will receive a customized care plan tailored to their needs and preferences. Visiting Angels will also strive to find the perfect care provider for your senior with the best skills, experience, and compassion.
Visiting Angels' approach has helped thousands of seniors extend their years at home. If you have a loved one at risk of losing their independence and wants to remain at home, contact your local home care agency to schedule a free consultation with a qualified care coordinator. Contact your local Visiting Angels office today!
Serving Baltimore, Bel Air, Easton Edgewater, Eldersburg, Frederick Gaithersburg, Hagerstown, Largo Laurel, Millersville, Pikesville, Silver Spring, Towson & Waldorf, Maryland
Visiting Angels Maryland Offices
Visiting Angels in Eldersburg, MD
6505 Ridenour Way E #1B
Eldersburg MD 21784
Phone: 410-324-6347
Visiting Angels in Largo, MD
9701 Apollo Dr #300
Largo MD 20774
Phone: 301-583-8820
Visiting Angels in Silver Spring, MD
804 Pershing Dr #110
Silver Spring MD 20910
Phone: 301-578-1616
Visiting Angels in Towson, MD
100 West Rd #300
Towson MD 21204
Phone: 443-841-5455
Visiting Angels in Gaithersburg, MD
971A Russell Ave
Gaithersburg MD 20879
Phone: 301-355-6578
Visiting Angels in Owings Mills, MD
10451 Mill Run Circle #400
Owings Mills MD 21117
Phone: 410-218-9506
Visiting Angels in Baltimore, MD
7206 Belair Rd
Baltimore MD 21206
Phone: 410-882-8201
Visiting Angels in Waldorf, MD
50 Post Office Rd #201
Waldorf MD 20602
Phone: 301-281-6866
Visiting Angels in Waynesboro, PA
10764 Buchanan Trail E
Waynesboro PA 17268
Phone: 717-749-0458
Visiting Angels in Millersville, MD
8338 Veterans Hwy #103A
Millersville MD 21108
Phone: 410-587-2316
Visiting Angels in Easton, MD
221 Glenwood Ave
Easton MD 21601
Phone: 443-746-0494