Dementia Care in Medford: How To Help When They Say They Want To Go Home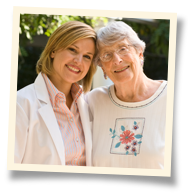 When it comes to dementia care, Visiting Angels® Medford offers the best solution for local families. We provide professional in-home assistance around the region to keep local seniors living at home and allow family caregivers to reduce stress and take a much-needed respite.
There are so many unique challenges to caring for a loved one with dementia. One of those challenges is hearing them declare "I want to go home," even while sitting on their own couch. For those experiencing this for the first time, your first assumption might be that they are confused. However, the truth is that dementia affects their ability to communicate verbally, and this phrase is their way of expressing different needs.
It can indicate sadness, loneliness, or even physical pain of some kind. As a loving family member, you should attempt to listen to their needs and reassure them that they are safe. Do not argue with them under any circumstances, as this will only amplify their anxiety.
You should try and redirect their attention onto something simple and positive, such as their favorite music. Basically, your goal should be to remain calm, attentive, and loving.
Our Professional Dementia Care in Medford
A dementia diagnosis presents many challenges, and seniors without support around the home often end up moving to an assisted memory or care facility. This move can add stress, confusion, and loneliness to an already deteriorating quality of life. The best way to keep them happy, healthy, and comfortable is to keep them living at home. Our support is designed to make that possible, with professional in-home assistance from highly qualified senior care professionals. We offer customized help that includes:
Basic Housework
Meal Preparation
Companionship
Medication Assistance and/or Administration
Accident Prevention
Mobility Help
And more!
Dementia Care To Help The Whole Family
Visiting Angels Medford has been helping seniors with dementia since 2013. We understand how vital it is for family caregivers to rest and feel like their loved one is safe. We provide loving care from qualified professionals who take pride in brightening your loved one's day. As part of our commitment to your peace of mind, we also provide access to The Family Room®, which is our free and secure family access portal for monitoring care plans, shift notes, billing info and more.
Our service area includes:
Medford
Grants Pass
Ashland
Phoenix
Talent
Jacksonville
Eagle Point
Central Point
And nearby areas
With professional dementia care, Visiting Angels Medford helps local families with this difficult diagnosis. To start with your care consultation and learn more, contact Visiting Angels Medford today.