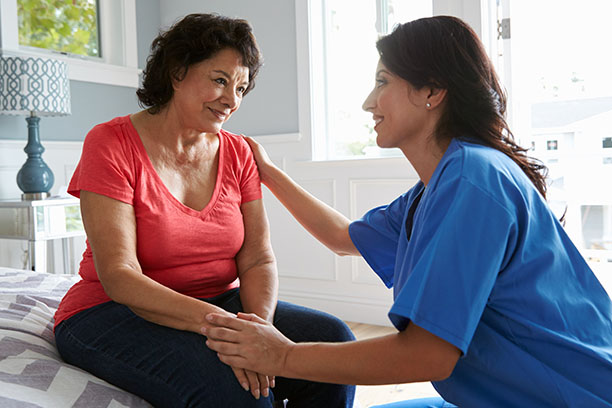 Dementia Care
Reliable Dementia Care Services in Medford
Visiting Angels Medford: Here to Help
Has the onset of dementia in your elderly relative begun to disrupt the flow of everyday life? Do you find yourself struggling to cope with their changing personality and needs? If so, you don't need to do it alone. Visiting Angels Medford has high quality, compassionate dementia care services that will ease your burden and your mind.
Our dementia care services help families in not Medford, Rogue Valley, Ashland, and Grants Pass. We can help you find a balance between providing for the needs of their loved one and taking care of yourself. Because when you're in good health and spirits, you can be a better caregiver to for your loved one.
Medford's Flexible Dementia Caregivers
Having your loved one become afflicted with chronic memory loss can be very frightening for you both. You will naturally have a lot of questions about how to move forward. The dementia care professionals at Visiting Angels Medford understand and are here to guide you through the process each step of the way. Our broad variety of dementia care services and customizable options are designed to take the pressure off; providing care when you need it most.
At Visiting Angels Medford, we believe in staying flexible, so we have caregivers available to provide home care:
Evenings
Weekends
Holidays
Full Time
Part Time
Overnight
Around the clock
Custom Dementia Care Services
Maybe your loved one could use assistance with routine daily activities like washing, dressing, or meal preparation. Or maybe you need someone who can step in to help them travel to and from appointments. There is no task too big or too small for our compassionate caregivers to assist with. We'll take the time to work with your family, assess your individual needs, and build a plan for dementia care services that takes everything into consideration.
Serving Medford, Ashland, Grants Pass and Surrounding Areas
Visiting Angels
MEDFORD, OR
990 N Phoenix Rd #105
Medford, OR 97504
Phone: 541-773-5002
Fax: 541-773-5010