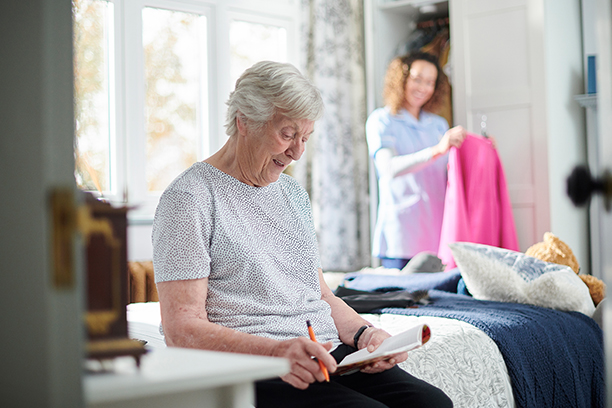 Long Distance At Home Care Services in Medford
How At Home Care can Help Your Family Find Peace of Mind
No matter how near or far they are, your family members are precious to you. Distance doesn't make you care about them any less, but it can make it significantly more difficult for you to provide care for them when they need your help. When you need to bridge the gap that distance creates, you can trust at home care from Visiting Angels® Medford. Our caregivers can bring our signature compassionate assistance into your loved one's home to support them in whatever way needed. For them, that means the ability to stay at home longer, for you, it means confidence and peace of mind.
Our At Home Care Services in Medford
What kind of care a senior may need can change dramatically based on their specific circumstances. Whether it's their vision that's begun to fail or their memory, an at home caregiver from Visiting Angels Medford can be there to lend a helping hand with whatever they may need. We even offer specialized services for seniors transitioning into or out of the hospital to help re-adjust and stay on the mend.
A few of the at home care services we offer at Visiting Angels Medford include:
Medication assistance
Help with bathing and dressing
Preparing nutritious meals
Transportation assistance
Light housework and chores
Coordinating deliveries
Providing uplifting companionship
At Visiting Angels Medford, we believe in taking an approach to at home senior care that accounts for not only their physical needs, but their emotional and spiritual needs as well. So in everything we do, we put your loved one's dignity and comfort first.
Free Consultations for Home Care
Your loved one is one of a kind, so it only makes sense to get them at home care which is as unique as they are. That's why Visiting Angels Medford takes every measure when it comes to personalizing your loved one's care. From the schedule we set according to their preferences, to the flexibility of our services themselves, every aspect of their care is custom-built for them. We also pay special attention when we Select Your Caregiver®, choosing a member of our Medford team whose skills, availability, and personality are the best possible fit for your loved one.
Visiting Angels Gives You the Option to Monitor Your Loved One's Care Online
We understand how stressful it can be to have a loved one that needs help with their care. At Visiting Angels we want to alleviate some of those stresses by giving you real-time transparency to the care process and helping to ease some of the logistical burdens with our online Family Room portal. The Family Room portal is available at no extra cost. Approved family members or friends will be able to access records of care online from any device with internet access. Additionally, family and friends can use a shared calendar to coordinate between each other, track visits and invoices, and view detailed care plans with personalized notes.
How It Works
1) Provide a valid email to receive an invitation from Visiting Angels
2) Accept the invitation, create a password, and login.
Once you've set up your account for the Family Room Portal, you will be able to:
● Keep track of care tasks
● Authorize Physicians and RN's to view and monitor care plan
● Coordinate & schedule events with family members
● View paid invoices online
With the Family Room, you will have access to your loved ones care whenever and wherever you have internet access. These services come at no additional cost. They are a part of Visiting Angels mission to provide the best possible care to your loved one and to empower you with the ability to care for them as well.
To schedule a free consultation for at home care, call Visiting Angels Medford today!
Serving Medford, Ashland, Grants Pass and Surrounding Areas
Visiting Angels
MEDFORD, OR
990 N Phoenix Rd #105
Medford, OR 97504
Phone: 541-773-5002
Fax: 541-773-5010