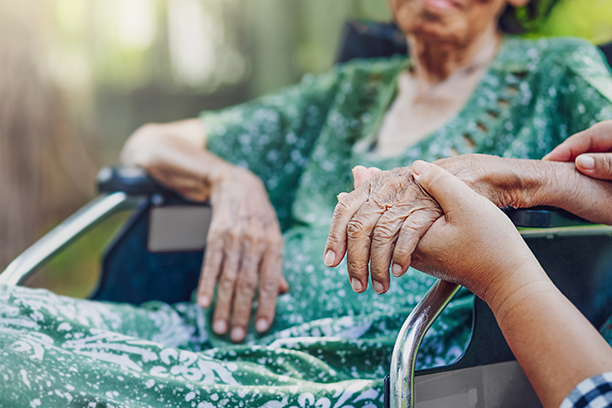 What is Visiting Angels
Most seniors want to remain in their own homes as long as possible, but aging presents challenges to living independently. Due to work and other obligations, families may not be able to offer as much assistance as they want to meet those challenges their loved ones face. Visiting Angels offers a helping hand and warm, friendly support for seniors and their families.
Richard Horning is director of the Medina Visiting Angels agency, founded in 2007, with Kathy Moore, office manager, and Maryann Theiss, marketing. Horning, who formerly served as a marketing and admissions coordinator for a nursing and assisted living facility in Akron, is no stranger to caring for seniors.
"Nursing homes do a wonderful job with rehab and care, and I admire them greatly, but there's no place like home," Horning said. "People want to be at home, in familiar surroundings. Seniors thrive in their own environment, and our goal at Visiting Angels is to help them stay at home as long as possible."
Horning said he wasn't aware of home care agencies until he started working in the senior health care field in 2001. But the concept made sense to him, and he and his staff wholeheartedly embrace the opportunity to provide assistance to seniors through Visiting Angels.
The Medina agency receives referrals from other families who have used the service, doctors, nursing and rehab centers, hospice companies, skilled nursing facilities and physical therapy agencies.
Visiting Angels provides non-medical assistance in personal care, meal preparation, light housekeeping, errands, shopping, getting mail, taking out trash and simple companionship like sitting down with a cup of coffee and chatting for a while.
"We're social animals, we need to socialize," Horning said. "We can take clients to area senior centers to participate in activities. We do what the family needs us to do. The family directs us."
Care can be arranged for day/night services, live-in/live-out care, temporary or long-term, weekends and holidays. The agency also offers respite for family caregivers. Assistance is not confined to seniors, although about 99 percent of their clients are elderly.
"The rates are hourly, and there's no contract," Horning said, adding that the agency does not require a down payment or deposit. "The arrangement can be anywhere from two hours of care up to 24/7. It will depend on the needs and wants of the client and their family."
There are 500+ franchise offices throughout the United States, and franchise operators receive extensive training and support from Visiting Angels, based in Philadelphia.
The Medina agency sets high standards, with most of the staff licensed as state-trained nursing assistants, although for staff serving in a companionship capacity it's not required. Everyone undergoes a background check as well as a credit check to determine if there are any financial problems, and employees are bonded and insured. Any breach of trust is not tolerated.
"People need to be protected, and some seniors can easily be taken advantage of," Horning said.
When the agency is contacted, the process begins with a home visit at no charge to meet the client and find out what services are needed.
"We consider the personalities involved and try to match the caregiver to the client as close as possible," Horning said. After the initial assessment, they introduce the chosen caregiver to the family and client and allow them to get acquainted. "If it doesn't look like a good match, we'll try someone else."
Once the assignment begins, caregivers are expected to report in when they arrive at a client's home and call the agency when they leave.
"Coverage is 24/7," added Theiss.
"We never leave anyone high and dry," Moore said. "There is always a person who will respond, not an automated system."
The seniors and their families, they said, will always come first.
Visiting Angels is located in the Reserve Building at 3637 Medina Road, Suite 201, Medina. For more information, call 330-590-5077.
Serving Medina County, and Southern Cuyahoga County
Visiting Angels
MEDINA / STRONGSVILLE, OH
135 N Broadway St
Medina, OH 44256
Phone: 330-723-0300
Fax: 330-723-0331