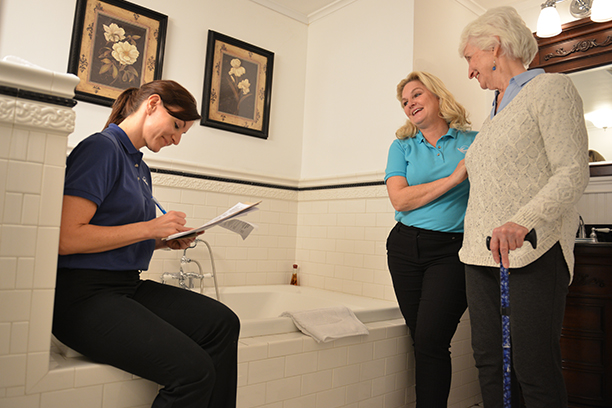 In-Home Personal Care by Visiting Angels of Memphis
Sometimes referred to as "private duty care," personal care can generally be referred to as a type of home care that predominantly focuses on providing one-on-one assistance to an individual who has limited mobility, diminished strength, or is possibly recovering from an injury. Visiting Angels of Memphis is proud to offer high-quality, professional, and compassionate private duty homecare to individuals both here in Memphis and the surrounding Mid-South communities.
Understanding the Need for Personal Care
At some point in our lives, we will all have a family member who is either aging to the point where they need basic help around the home or they have another mitigating circumstance (a chronic illness, recovering from a surgical procedure, rehabilitating from an injury, etc.) that will limit their mobility or diminish their strength. When that time comes, Visiting Angels of Memphis is here to help with our in-home personal care services.
Personal Care Services at Home
Personal care (also known as private duty care) presents a great option for people who have a loved one that needs help while still in their home with things such as walking up and down stairs or even getting out of bed. Visiting Angels of Memphis has a team of dedicated, compassionate in-home caregivers who can assist your senior or other loved ones with these basic daily tasks.
Respite Care for Family Members
Often family members (such as adult children) feel the desire to offer this in-home private duty care themselves. While this is a great option if you have the time and the capability of doing so, everyone needs a break from time to time. Our in-home personal care can also be viewed as respite care to offer you or your family members some time to step away. Whether it's for a few hours a week or for months on end, you can rest assured knowing that your elderly loved one is in caring and capable hands and that all their basic needs are being met. For more information, visit our homecare services page.
Advantages of Aging in Place
In-home personal care is usually preferred when compared to going into an assisted living facility and the reasons are multi-faceted. Seniors can preserve their independence and age gracefully in-place at the home they have come to know and love over the years. Being able to remain in one's home provides a great sense of security and does wonders for one's overall emotional and psychological well-being.
Additionally, in-home private care is often a more cost-effective option compared to a full-time assisted living facility. Visiting Angels of Memphis can work with you and your other family members to create a tailored, customized schedule of personal care that will work within your budget and ensure your loved one has what he or she needs - not just the basic assistance with household tasks and mobility but also the sense of comfort by having compassionate and consistent presence of caregivers at home. Discover more about our Senior Life Care Navigation.
Client Experiences and Testimonials
Many people throughout Bartlett, Germantown, Cordova, Collierville, Fisherville, and elsewhere in Shelby County have entrusted Visiting Angels of Memphis to provide in-home private duty care to their loved ones and appreciate us helping the seniors in their life maintain their independence while aging at home. Just see what one of our real-life clients had to say about the experience of working with us:
"David and the staff at Visiting Angels Home Care took the time to listen to the needs we had for my mom and provided excellent service. From an initial home visit to meet my mom, view her surroundings, and pair her with a caregiver, the whole experience was very professional. Mom had 4 visits from Betty. She thoroughly enjoyed the time spent with Betty. I highly recommend this service if you need someone to care for your family." —Todd Dudley
Start Your In-Home Care Journey
If you would like to begin the process of establishing in-home personal or private duty care with a team of experienced, caring, and trained professionals, call Visiting Angels of Memphis today at (901) 385-7787. We will work with you to establish a unique level of care and schedule that not only ensures your beloved senior has everything they need but also that you have the peace of mind knowing that even when you're not there, someone who cares is. Learn more about why Visiting Angels is the right choice for your family.
Serving Memphis and the Surrounding Mid-South Areas
Visiting Angels
MEMPHIS, TN
5349 Estate Office Dr #2
Memphis, TN 38119
Phone: 901-385-7787
Fax: 901-415-6261