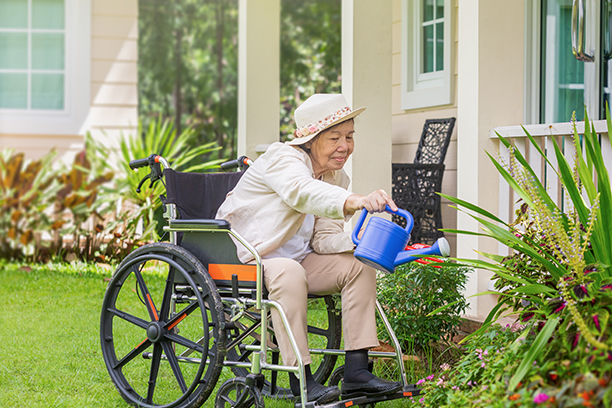 Respite Care in Florence
When a loved one needs care, they may turn to you. But where do you turn when you need assistance with your caregiving responsibilities? The purpose of respite care is to help ensure family caregivers in the Florence area always have a support system in place. At Visiting Angels® Northern Kentucky, we know firsthand just how difficult it can be to help a loved one continue living at home. We are here to support you with your responsibilities and enable you to take time off as needed.
Family caregivers who do not have the opportunity to reach out for assistance often endure the severe effects of caregiver burnout. When you are exhausted on a mental and emotional level in addition to a physical one, you simply can't give your loved one the empathetic support they deserve. We aim to prevent caregiver burnout and make it possible for family caregivers to enjoy the rewards of caregiving without overlooking their own needs for self-care.
What is Respite Care?
Because respite care is different from other forms of senior care, families are often confused about how it works. These services are provided on a short-term basis through a temporary schedule of care visits. In other words, a care professional can step in to take over a family caregiver's duties for a set period of time, whether a few hours or a few weeks. Our flexible approach to scheduling ensures family caregivers can have a break whenever they feel they could benefit from time off.
How Respite Care Helps Seniors in Florence
Our care providers can manage most of the duties you typically perform while caring for your loved one. We pair families with compassionate care professionals who build relationships with their care recipients and help them thrive while their family caregiver is away.
Our services for seniors in Florence can include:
Help with chores around the house
Conversation and participation in hobbies
A helping hand with personal care
Reminders about medication schedules
Transference and mobility assistance
Running errands and going grocery shopping
Getting Started with Respite Care
We always encourage family caregivers to seek support before they begin to suffer from the effects of caregiver burnout. We are here to provide you with more information about our services at your convenience. Just reach out to our local team, and we can schedule a time to meet with you and your loved one for a care consultation free of charge.
Schedule your respite care consultation in Florence, Boone County, Kenton County, Campbell County, or a community in the surrounding areas. Call Visiting Angels Northern Kentucky today!
Serving Northern Kentucky
Visiting Angels
NORTHERN KENTUCKY
1099 Burlington Pike
Florence, KY 41042
Phone: 859-647-6770
Fax: 859-647-0037