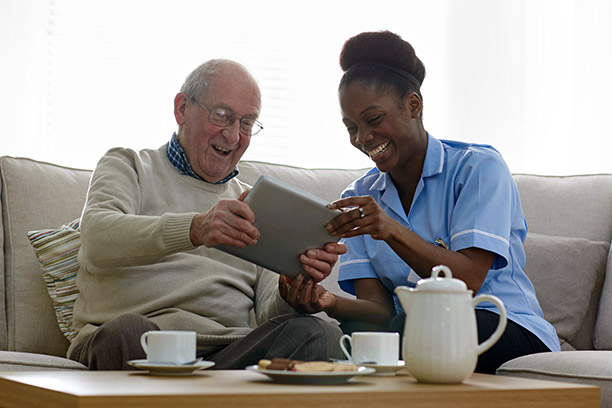 Alzheimer's Care Services in Attleboro
Our Mission: To Improve the Quality of Life for Those Suffering with Alzheimer's Disease and Their Families


When a loved one is diagnosed with Alzheimer's or dementia, there are many things to consider. Along with the emotional effect it has on your loved one and other family members, there are practical concerns to work out. Visiting Angels Attleboro can provide your family with Alzheimer's and dementia care services to address your loved one's physical needs and offer emotional support to your family. Our assistance enables your loved one to remain safely at home while enjoying their independence for as long as possible.
Alzheimer's and Dementia Care Services Provide Companionship
If your aging parent or family member deals with the effects of Alzheimer's or dementia, chances are their social life will eventually be affected. Between loss of memory function and changes in personality, it is often difficult to maintain relationships. However, companionship is still an important aspect of your loved one's overall health and well-being.
The right caregiver can help your family member feel supported while providing practical Alzheimer's and dementia care services. Visiting Angels Attleboro employs compassionate memory care professionals who understand the important role they play in the lives of their clients. Visiting Angels Attleboro is happy to be able to provide valuable Alzheimers and dementia care services to seniors in our community.
Easy Scheduling of Care in Attleboro
At Visiting Angels Attleboro, we understand schedules can vary greatly. This is why our Alzheimer's and dementia care services are customizable to suit your family's needs. Choose either long term or temporary assistance based on your needs today. If something changes down the road and we can make adjustments to the type and frequency of care we provide.
With Visiting Angels Attleboro, you are in control of scheduling, from the frequency of visits and duration of stays, to specific dates and times your loved one will receive care. With caregivers available around the clock, you will always have access to qualified care. Alzheimers and dementia care services from Visiting Angels Attleboro can grow and change with your loved one throughout the course of their illness.
If your family is dealing with Alzheimer's and dementia, call Visiting Angels Attleboro for care. Our services can help keep your loved one safe at home.
Serving the Greater Attleboro Area Including Bristol and Norfolk County Communities
Visiting Angels
NORTH ATTLEBORO, MA
588 Kelley Blvd #4
N Attleboro, MA 02760
Phone: 508-699-3969
Fax: 508-699-3969