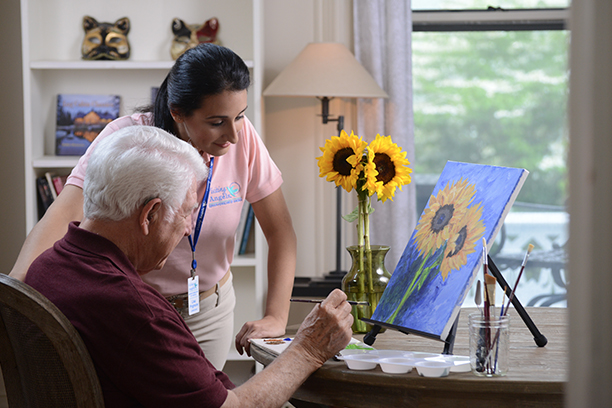 Long Distance Elder Care in Lafayette
How Elder Care in Lafayette Can Help Your Family Find Peace of Mind
Making the choice to get started with elder care can be tough, especially if you live far away from your loved one in Lafayette. You may not know how to begin assisting them when you're not able to be physically present to tend to their care needs. That's where long distance care from Visiting Angels® Northern Central Indiana comes in. We'll support you as you navigate the decisions that lie ahead and give you peace of mind that your loved one is in safe hands.
Our professional care providers are prepared to deliver high-quality senior care services for elderly adults living throughout the Lafayette area, including Kokomo, Frankfort, Tipton, Crawfordsville, Russiaville, Greentown, Cicero, Arcadia, Sheridan, and nearby towns. You can count on us to keep you in the loop every step of the way so you can have confidence about your loved one's well-being.
About Our Long Distance Elder Care in Lafayette
As it's becoming increasingly common for close family members to live far apart, long distance senior care is no longer a niche need. Many seniors remain in close contact with their loved ones thanks to technology, but do not have the physical assistance they require to age in place in a safe and comfortable manner.
Our elder care services at Visiting Angels Northern Central Indiana are the care solution that many long distance families are searching for. Here are just a few of the ways that we support these families during difficult times in Lafayette:
Free consultations via phone or email concerning our services
Coordination of an in-person meeting at the senior's home
Creation of a customized care plan that covers the senior's full range of needs
Selection of a professional caregiver who is ideally suited to provide care for the senior
Regular updates for involved family members by phone or email
Immediate notifications regarding sudden changes in the senior's well-being
Frequent check-ins with the senior and caregiver over the phone and in person
Convenient communication for concerned family members through our after-hours phone line
Is it time to help your loved one in Lafayette get started with professional elder care? Simply contact Visiting Angels Northern Central Indiana today to hear more about our customized at-home care programs for seniors in Lafayette, Kokomo, Frankfort, Tipton, Crawfordsville, Russiaville, Greentown, Cicero, Arcadia, Sheridan, and communities in the surrounding areas.
Serving Lafayette, Kokomo, Frankfort, Tipton, Crawfordsville, Russiaville, Greentown, Cicero, Arcadia & Sheridan, IN
Visiting Angels
NORTHERN CENTRAL INDIANA
7 South Main St
Frankfort, IN 46041
Phone: 765-670-6260
765-670-1134
Fax: 765-670-6258