Dementia Care Services in Niles: Tips for Making Every Day Easier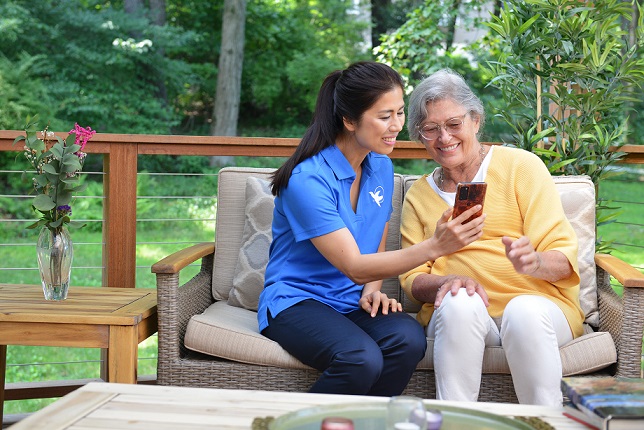 At Visiting Angels® Chicago, we provide in-home dementia care services for seniors in Niles and the surrounding areas. Our flexible care will include a variety of customized care duties, depending on the specific needs of your loved one. We are proud to offer warm, caring, and kindhearted support from trustworthy senior care professionals.
When a loved one is diagnosed with dementia, it is often up to family members to make their life easier and safer. Your goal should be to keep them at home, where they can enjoy more privacy, peace, and comfort than in a care facility. We are committed to helping you make this goal a reality, which is why we are so eager to provide the customized support your loved one needs. In addition, we'd also like to offer some tips for caregiving relatives to help you create a better life for your loved one.
How to Support Your Loved One with Dementia
Here are some ways you can help your loved one cope with their affliction:
Preserve their routine. Having a schedule is a great way for seniors with dementia to maintain normalcy and navigate daily life.
Provide memory assistance. They may need help keeping up with appointments and other obligations, so help them with memory reminders and organization.
Have fun with them. Plan activities they enjoy and try to schedule them around the same time each day. This will provide them with enjoyment, consistency, and something to look forward to.
Be helpful but not overbearing. Your goal should be to keep them safe while remaining as independent as possible, so do not help them with tasks they can easily perform on their own.
Be loving and respectful. You should focus on keeping a patient, kind, and loving demeanor at all times.
Take Advantage of Our Dementia Care Services in Niles
As a family member of someone with dementia, it is important for you to follow the tips we've outlined above. Your goal should be to make their home life easier and safer in any way that you can, and we are eager to help you in this mission. With our support, the full responsibility of your loved one's care will no longer fall on your shoulders. We will be there to provide loving and attentive support for your loved one, allowing you to take more breaks and enjoy a more balanced life.
We are proud to offer our dementia care throughout:
Niles
Chicago
Morton Grove
Lincolnwood
Golf
And the surrounding areas
To learn more about our dementia care services in Niles, call Visiting Angels Chicago to arrange your free care consultation today.