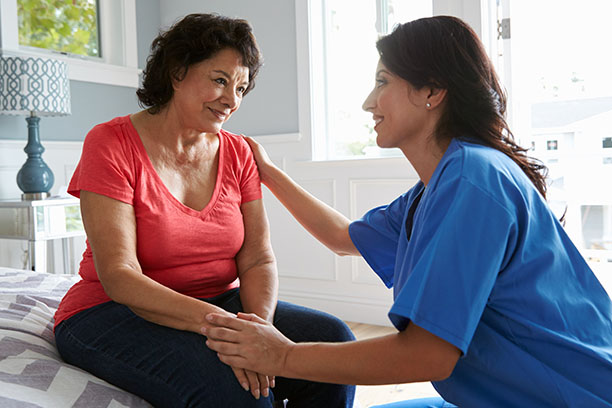 Dementia Care in Chicago
Having a treasured relative suffer from dementia takes a toll on the whole family. It's painful to watch them struggle with activities and tasks that once gave them no trouble at all. Memory loss can take things from bad to worse, making everyday tasks more than just tricky for them. Frustration and disorientation can lead to emotional outbursts and fits of anger which the average family caregiver isn't prepared to cope with. Dementia care services from Visiting Angels® Chicago can help.
How Dementia Care Works
At Visiting Angels Chicago, we are committed to providing unparalleled services to our community by taking a unique, mind-body-and-soul approach to dementia care. Our dementia care techniques were developed hand-in-hand with the Alzheimer's Foundation of America to help seniors stay at home successfully and bring their families peace of mind.
Some of the things that make our dementia care services at Visiting Angels Chicago truly exceptional are:
Personalization - rather than try to prescribe a one-size-fits-all dementia care strategy for your loved one, at Visiting Angels Chicago, we learn from you about their needs and customize a plan specifically for them
How We Select Your Caregiver® - from our team of outstanding local individuals, based on a carefully balanced combination of their physical and emotional needs, personality, preferences, and scheduling requirements
Staying Flexible - particularly for seniors with memory loss, timing is important, and sticking to familiar routines can mean the world in terms of preventing confusion, which is why our dementia caregivers at Visiting Angels Chicago will gladly adapt their schedules to suit your relative's needs
Offering Advanced Care Options - we offer advanced dementia care training to those caregivers who wish to pursue it as a specialization, so that your loved one has the option of even more exceptional care
Keeping in Touch - to maintain a consistently high level of dementia care and ensure that you are completely satisfied with your services, we make sure to check-in regularly with our caregivers and always keep you in the loop
Free Consultations for Chicago Families
In order to craft dementia care especially for your loved one, we first meet with all prospective clients at home in Chicago to discuss their unique situation. It's also an ideal time for you to get to know us, as well, and ask any questions you need answered in order to feel truly confident about your loved one's care.
To book your free consultation for dementia care, call Visiting Angels Chicago today.
Serving Northwest Chicago and the Surrounding Suburbs
Visiting Angels
NORTHWEST CHICAGO, IL
6775 N Milwaukee Ave
Niles, IL 60714
Phone: 773-481-9515
Fax: 773-481-9530