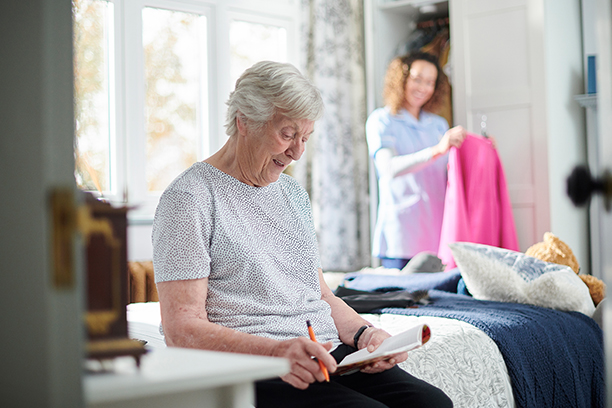 How We Assist With Aging in Place in Owatonna 
When it comes to making aging in place in Owatonna possible, our care agency understands what seniors need to live life to the fullest. At Visiting Angels® Owatonna, we have a variety of care programs specifically created to promote the quality of life of elderly adults as they live at home. Ensuring seniors can remain in the comfort of their own homes for as long as possible allows them to enjoy the benefits of maintaining a sense of autonomy even as they begin to encounter age-related issues that would otherwise hinder their independence.
The Importance of Aging in Place
While the vast majority of older adults would prefer to remain in a familiar living environment rather than moving to a care center, making this happen can be challenging. As people age, they can lose their strength and mobility. It is also common to face cognitive decline and memory disorders. This combination of factors can make basic activities such as housekeeping, bathing, and preparing meals a challenge.
Nonetheless, there are many benefits to remaining at home. Seniors who stay where they feel most at ease can continue to control how they spend their time. This means they can engage in those small daily rituals that make them feel most like themselves. As a result, aging in place in Owatonna can have a positive effect on their mental and emotional well-being.
In-Home Care vs. Assisted Living
In contrast to aging in place, moving to an assisted living center typically requires seniors to relinquish some degree of independence. Those who reside in senior care facilities or nursing homes often must follow a pre-determined schedule and adhere to specific rules. Moving away from the home environment they've grown used to can be tough on them both mentally and emotionally. Since illnesses spread more quickly in shared living facilities, this type of care situation can also have a negative impact on their physical health.
How We Help Families in Owatonna
Our in-home care services enable seniors to age in place and avoid a move away from home for as long as possible. Our caregiving team offers a helping hand with day-to-day activities and can supervise seniors as they go about their daily routines. With a caregiver by your loved one's side as they embark on the journey of aging in place, you can have peace of mind about their living situation.
Call Visiting Angels Owatonna today to learn more about aging in place in Owatonna, Janesville, Medford, Meriden, New Richland, Waseca, or a nearby town.
Serving Waseca, Owatonna, Ellendale and Surrounding Areas
Visiting Angels
OWATONNA, MN
577 State Ave #3
Owatonna, MN 55060
Phone: 507-451-1124
Fax: 507-451-1930