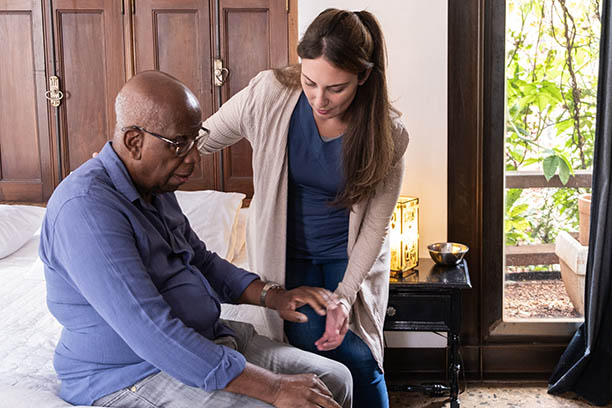 Palliative Care
Palliative care is a specialized approach to support and provide relief for individuals with chronic conditions by managing their physical, emotional, social, and spiritual well-being and comfort. The goal of palliative care is to enhance their quality of life and offer peace of mind to their families.
Many think palliative is only associated with hospice or end-of-life care. However, key differences between palliative and hospice care exist.
Hospice delivers services to those with limited life expectancy, while palliative care can be provided any time after the diagnosis of a chronic illness, regardless of a person's life expectancy. Hospice services can also begin when curative treatments stop, but palliative care can be offered in conjunction with treatments.
Palliative Home Care Services
Visiting Angels' Certified Palliative Care program uses a broader, more holistic approach that sets itself apart from other providers. Caregivers focus on a comprehensive scope of needs including:
Physical
Focus on physical concerns and pain to provide personal comfort.
Emotional
Overcome complex emotions, including anxiety, depression, and anger, to instill positivity and a sense of wellness and purpose.
Social
Develop close relationships and provide companionship and meaningful conversation to relieve feelings of loneliness and isolation.
Spiritual
Boost the overall sense of inner peace and purpose while helping families find peace of mind during a challenging time.
Although Visiting Angels does not provide medical services, caregivers will work with your loved one's healthcare team to provide essential non-medical services. They can watch over your loved one at home or in an assisted living facility or nursing home.
In addition to dedicated home care services, Visiting Angels also offers a customized program for end-of-life care.
Ready to get started?
Find your nearest Visiting Angels' home care agency today or CONTACT US to learn more about palliative services!
---
Palliative Home Care FAQs

Are Palliative Caregivers Trained?
Visiting Angels' offers non-medical certification in palliative care to caregivers through a unique Palliative Care Certification Program. The program educates caregivers about delivering compassionate comfort care that addresses the physical, emotional, and spiritual needs of chronically ill individuals with the overall goal of positively impacting their quality of life.
Professional caregivers will provide day-to-day comfort and support for your loved one along with other care providers, which may include doctors, nurses, social workers, nutritionists, massage therapists, pharmacists, chaplains, and home health care providers.
What Chronic Conditions Are Addressed?
Palliative care assists individuals coping with a variety of serious and chronic illnesses, such as:
Cancer
Chronic obstructive pulmonary disease (COPD)
Congestive heart failure (CHF)
Dementia
Emphysema
Kidney failure
Liver failure
Lung disease
Neurological diseases such as Parkinson's, ALS, or Alzheimer's
What Are the Benefits for Family Members?
Having a Visiting Angels' caregiver by your loved one's side to look after their personal care needs and ensure they are comfortable as possible can significantly reduce your anxiety and stress. With your loved one's needs being met by a professional caregiver, you can spend more quality time with your loved one when it matters most. You may also experience increased peace of mind during times when you cannot be with your loved one.
How Long Can an Individual Use Services?
There is no time limitation for palliative services, which can be used from the time of diagnosis through end-of-life care. Services can be stopped or started at any time as symptoms change.
How Can You Learn More About Visiting Angels' Specialized Services?
If you have a loved one who is living with a chronic condition, contact your local Visiting Angels home care office to learn more about our compassionate approach to in-home palliative care.
Before getting started, Visiting Angels will provide your family with a free home care consultation that helps to learn more about your loved one's needs. With input from you and your loved one, Visiting Angels will develop a personalized plan that enhances your loved one's comfort and overall well-being.
Serving Waseca, Owatonna, Ellendale and Surrounding Areas
Visiting Angels
OWATONNA, MN
577 State Ave #3
Owatonna, MN 55060
Phone: 507-451-1124