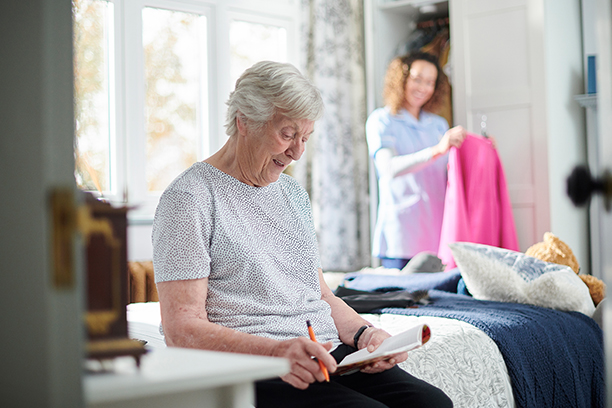 Senior Home Care in Paris: Our Experience
When you have a trusted partner in senior home care, your family can know your loved one always has someone to turn to as they live at home in Paris. At Visiting Angels® Paris, we are a trusted local home care agency providing personalized assistance for elderly adults in and around our community. Our expertise is made apparent through the many different types of care we offer. In addition, we have built a reputation for compassionate care thanks to the warmth, kindness, and dedication of our professional caregivers.
Understanding Our Senior Home Care Experience
As an expert in the industry, our senior care organization understands the different needs older individuals often face when they live at home. While some seniors only need a bit of help with everyday activities, others require around-the-clock support. This is why we are proud to provide a broad spectrum of services that can be tailored to the unique requirements of each care recipient.
Our Life Care Navigation™ program underscores the various levels of support and types of care we are prepared to deliver. These include specialized memory care, respite care, transitional care, personal care, companion care, and other home care services. Moreover, we promote flexibility in the care scheduling and planning process. Our experience has shown just how valuable it is to work around seniors' normal routines and their families' preferences.
About Our Senior Home Care Providers in the Paris Area
Our range of services isn't the only thing that represents our industry expertise. In fact, we believe our success stems from our commitment to uphold the values of our organization, which promotes seniors' independence and dignity at every turn. Additionally, we always choose caregivers who share these values and can deliver high quality care for seniors that enhances their quality of life.
No one understands the weight of choosing a care provider for your loved one like we do. We realize that one of your main priorities may be to find a caregiver that is understanding, empathetic, and respectful of your loved one's needs and preferences. Our agency has adopted a detailed screening system that makes these characteristics a focal point. As a result, we have been able to build a team of caregivers families in Paris and beyond trust to aid their loved ones.
Book a free senior home care consultation in Paris, Commerce, Greenville, Mount Pleasant, Texarkana, Sulphur Springs, or a nearby town today! Call Visiting Angels Paris to get started.
---
Senior Home Care FAQ
What Type of Support Can a Caregiver Provide?
Visiting Angels provides a wide range of home care services to help you find the right type of assistance and support for your loved one.
Our core services include companion care, personal care, and respite care.
We also offer a number of specialized senior home care services through Life Care Navigation®, such as Alzheimer's care, dementia care, end of life care, palliative care, transitional care, fall prevention, and assistance with digital technologies.
How Quickly Can I Start Home Care with Visiting Angels?
Visiting Angels delivers senior home care on your schedule. This includes providing our services as soon as possible to families in urgent need of home care.
In most situations, we can provide care within 48 hours of the initial consultation. In many cases, we start care services on the same day.
How will Care Be Personalized for My Loved One?
At Visiting Angels, we understand every individual has unique care needs. Because of this, we're committed to personalizing your loved one's senior home care services.
When we develop a care plan, we will consider factors like their physical and cognitive health, personal habits and preferences, living situation and daily routines, and other factors. We may also consider input from medical professionals, such as their doctors or nurses.
This information, along with input from you and your loved one, will be used to create a one-of-a-kind care plan. We will tailor our services according to your loved one's needs, schedule care visits around their routines, and develop unique care directives to match their personality and lifestyle.
What Happens if My Care Needs Change Over Time?
Many seniors see their care needs evolve over time and may require longer or more frequent care visits as they age. Often, they will also require new types of care services or changes to the services they already receive.
With Visiting Angels, care plans can be easily changed according to your loved one's needs. We perform regular check-in visits and provide ongoing monitoring, and we remain in frequent contact with families. This way, you're always up to date and informed. If changes occur in your loved one's health, lifestyle, or care preferences, we can adjust their care plan accordingly.
What Is Select Your Caregiver®?
Select Your Caregiver® makes it easy to find the right senior home care provider for your loved one.
When we develop your loved one's customized care plan, we will consider the unique qualities your loved one needs in a caregiver. We will then match your loved one with a qualified care provider who possesses these qualities.
Through our Select Your Caregiver® program, you and your loved one will be able to choose their senior home care provider. Whenever possible, you'll have the opportunity to interview your loved one's caregiver before care services begin. Additionally, your local Visiting Angels office will be in close contact during the initial stages of care to ensure we found the right fit.
Serving Paris, Greenville, Sulphur Springs., Texarkana and the Surrounding Areas
Visiting Angels
PARIS, TX
100 NE Loop 286
Paris, TX 75460
Phone: 903-784-5500