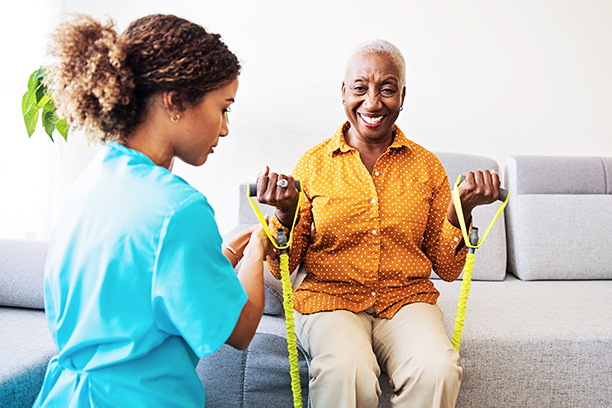 How to Get Started with Senior Home Care in Tarpon Springs & Pasco County
Step one is a discussion with one of our Referral Specialists. Through our free in-home referral consultation, we gain a clear understanding of you or your loved one's needs. We'll listen to each and every need you may have and refer you to affordable caregivers qualified to meet those needs. You get to customize your own schedule and requirements so you do not have to alter your routine or demands.
Select Your Caregiver ®
Once we've gained a detailed understanding of your needs, we will refer you to a group of caregivers with the appropriate training and experience to select from. You get the final say on the choice of caregivers and have total freedom to accept or reject any of our referrals. You can meet and select your caregivers before care begins and spend time getting to know them. Once you've made a choice, you and your caregivers are able to develop the care plan you desire that can help make senior life easy.
For families throughout Tarpon Springs, Pasco County, and the surrounding communities, connecting with caregivers is made easy through Visiting Angels Pasco. We provide referrals for non-medical care to seniors in Tarpon Springs, Holiday, Trinity, and the Communities of Norther Pinellas County, and the surrounding areas.
Caregivers from our nurse registry provide in-home care to elderly and disabled adults. Professional caregivers, thoroughly trained and vetted, are able to care for seniors who are living with the effects of Alzheimer's, Dementia, Parkinson's, Diabetes, Congestive Heart Failure, Multiple Sclerosis, Stroke, and more. Knowledgeable caregivers can help improve your or your loved one's quality of life at home. If aging in place is important to you, look to Visiting Angels Pasco for referrals throughout the Tarpon Springs and Pasco County communities for in-home care.
Call us at 727-841-8440 with your senior questions regarding in-home care. Our staff can come to your home and conduct a free, no obligation referral consultation. We will then, at your direction, identify caregivers who have the skills, experience, and availability to assist you. You will then be able to meet caregivers and select who may be a good fit to provide assistance to you and your family.
Serving Tarpon Springs, Holiday, Trinity & the Communities of Northern Pinellas County, FL
Visiting Angels
TARPON SPRINGS & PASCO COUNTY, FL
35 West Lemon St
Tarpon Springs, FL 34689
Phone: 727-841-8440
Tampa 813-909-2550
Fax: 727-942-3661
NR30211483 & NR30211426