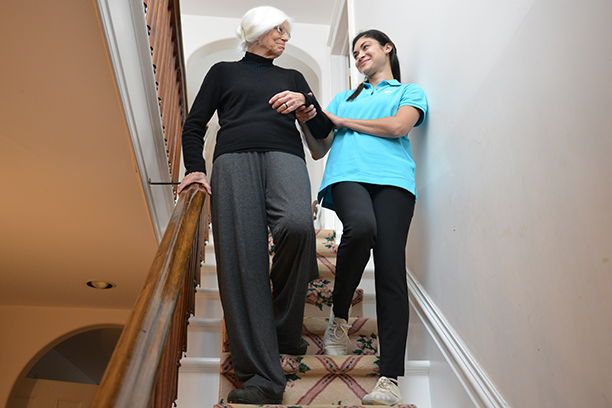 Elderly Companion Care
Outstanding Elderly Companion Care from Visiting Angels Plainfield IL
Visiting Angels of Plainfield, IL provides elderly companion services to aging clients in Oswego, Bolingbrook, Plainfield and Joliet. Elderly companion care not only provides your loved one with assistance in their day to day activities, but offers a trusted friend to provide company and conversation.
As our loved ones age, it can become difficult to stay engaged in social activities and friendships. Transportation is often an issue, as well as physical stamina. It's easy to become withdrawn or depressed over a lack of social interaction. Elderly companion services from Visiting Angels Plainfield IL help to address these issues. Our caregivers provide companionship by playing cards, putting together puzzles, and engaging in your loved one's favorite activities. Having an elderly companion from Visiting Angels Plainfield IL has made a positive difference in the lives of many local seniors.
Elderly Companion Care Services
Elderly companion care from Visiting Angels Plainfield IL can offer a variety of services to your loved one. Our caregivers can be a helping hand around the house to assist with laundry and light housekeeping. They can also be a dinnertime companion, helping with meal preparation and sharing in food and conversation. Our elder care providers are also good walking companions and able to accompany your family member on errands and doctor's visits. When you select an elderly companion from Visiting Angels Plainfield IL, your loved one will receive so much more than just physical assistance. They will enjoy a relationship that meets their emotional needs as well.
Flexible Scheduling of Elderly Companion Care
Thanks to the flexible scheduling options at Visiting Angels Plainfield IL, your family member can receive the joy of companionship any time you choose. Perhaps you feel they could use some company during the day while you're at work, or possibly someone to keep them company in the evening. No matter the time of day or for how long, our plans have you covered. Our hourly rates are affordable and make scheduling easy. This is just one more way the elderly companion care plans from Visiting Angels Plainfield IL are centered around you.
When you select an elderly companion provider from Visiting Angels Plainfield IL, you will gain a trusted caregiver. We select our Angel companions based on their ability to pass our rigorous interview process and their compassionate personalities. We seek out caregivers who are motivated by helping others and who share our belief of treating seniors with dignity.
For elderly companion care you can trust, contact Visiting Angels Plainfield IL today.
Serving Plainfield, Joliet, Shorewood, Crest Hill, Romeoville, Bolingbrook, Oswego and surrounding areas.
Visiting Angels
PLAINFIELD, IL
24014 Renwick Rd #100
Plainfield, IL 60544
Phone: 815-254-0152
Fax: 815-254-0175