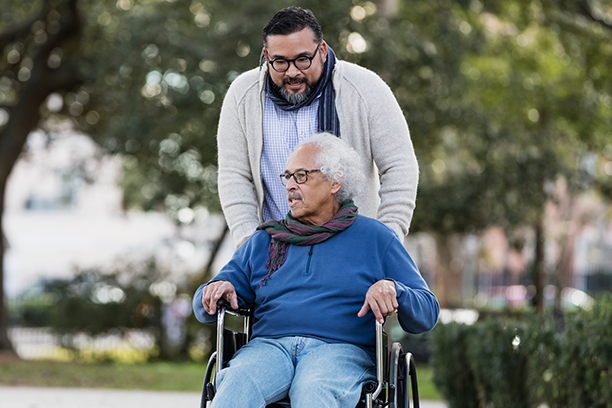 Long Distance Elder Care in Pocatello
How Elder Care in Pocatello Can Help Your Family Find Peace of Mind
If you live far away from your immediate family members in Pocatello, you may find it difficult to provide them with the support they need as they grow older. At Visiting Angels® Pocatello, we're prepared to help long distance families face the challenges of the aging process. Our elder care services can be arranged from a distance for seniors living in Pocatello or a nearby community. We'll keep you in the loop every step of the way so you always have peace of mind about your loved one's well-being and confidence in your care decisions.
About Long Distance Elder Care in Pocatello
In modern times, it's not unusual for immediate family members to live in different communities. As children grow into adults, they often find professional opportunities outside their hometown or home state. Also, many seniors choose to move to warmer climates where they can enjoy their retirement to the fullest.
Staying in touch with those we hold most dear is easy thanks to innovations in technology and transportation. However, nothing can substitute for the physical presence of a caregiver when an elderly adult is in need of outside support. That's where professional care agencies like Visiting Angels Pocatello step in.
You can easily arrange care services for your loved one in Pocatello no matter where you currently reside. Take a look at how we'll help you get started:
Answering your questions about our services by phone or email
Setting up a convenient time to discuss our care programs with other involved family members
Scheduling a one-on-one, in-home meeting with your loved one to learn more about their care needs and lifestyle
Using your family's input as we design a customized care plan that covers your loved one's comprehensive care requirements
Selecting a professional caregiver from our talented team who has the requisite skills and right personality for your loved one's needs
Providing you with frequent updates regarding your loved one's well-being and care
Immediately informing you of any sudden changes in his or her physical, emotional, or cognitive condition
Checking in with the senior and caregiver by phone and in person to ensure high standards of care
Being available at all times on our after hours phone line so you can always reach us
Contact Visiting Angels Pocatello today to learn more about setting up at-home elder care for your loved one in the Pocatello area.
Serving Pocatello and the Surrounding Areas
Visiting Angels
POCATELLO, ID
902 E Sherman St
Pocatello, ID 83201
Phone: 208-323-9050