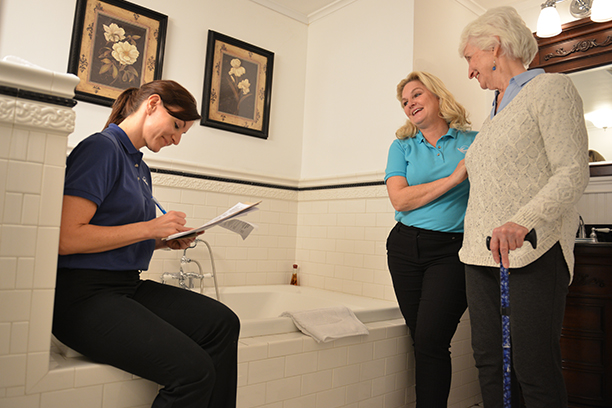 Meet the Staff at Visiting Angels - Rhode Island
Meet the staff at our Visiting Angels - Rhode Island office in E. Providence.
Ashley Puga- HR Assistant

Visiting Angels of RI has truly given me a place to grow! From scheduling to assisting Human Resources, I've learned a lot. The caring and supportive work environment really helped me come "out of my shell"! Everyone here works so well as a team and it really makes me look forward to coming to work every day. I love the sense of purpose that comes with working at Visiting Angels of RI. Knowing that I am contributing to the overall health and well-being of our clients is incredibly fulfilling, and I feel proud to be part of a team that is dedicated to helping others and making a difference in their lives. Each day brings something new!

Shawna Thibert – Scheduler

It has been a pleasure working with the staff and clients of Visiting Angels of RI for almost 2 years. From day one, they have shown kindness and understanding to our aging population. They appreciate all staff team members it feels like a family. As a former CNA, and now a Scheduler, I love being able to help keep loved ones in their homes safely. I love being able to support Visiting Angels of RI in their mission, and find each day challenging, exciting and rewarding. I look forward to continuing my journey with this amazing company and furthering my knowledge!

Maureen Gest - HR Generalist

Working for Visiting Angels of RI for the past 7 years has been a true pleasure. Visiting Angels of RI has made a commitment to care for their clients and caregivers. They do not see me as a number, rather, as a part of a family. I have worked in many areas of Visiting Angels; starting off as a CNA, interpreting for Nurses during assessments, being the first CNA, a client meets, working as a scheduler and now as an HR Generalist. I absolutely love working for Visiting Angels. I can gladly say that I get up eager to get to work every day. That doesn't happen to many, and I am blessed to be one of the few.

Carolyne Ainsworth, RN, BSN – Assistant Director of Nursing

As a Registered Nurse with several years of experience in medical and mental health nursing, I really enjoy working for Visiting Angels of RI. Our homecare clients come from a range of diverse cultures. I always put each and every client first because that is my philosophy always. Visiting Angels provides me with the autonomy needed to be a registered nurse in the homecare environment. I find my work very beneficial to our clients as well as very rewarding for me.

Kristen Harrison – Office Manager

Before starting at Visiting Angels of RI in 2017, I worked as a CNA in facilities. This is where my passion for assisting the elderly and disabled to stay in their homes was born. Visiting Angels of RI's commitment to their mission to provide excellent care to their clients is evident, and I'm truly blessed to be a member of this team. As Mark Twain said, "Find a job you love, and you'll never work a day in your life".
Serving Providence & Bristol Counties and Surrounding Communities
Visiting Angels
RHODE ISLAND
224 Taunton Ave
East Providence, RI 02914
Phone: 401-270-4664
Fax: 401-270-4710