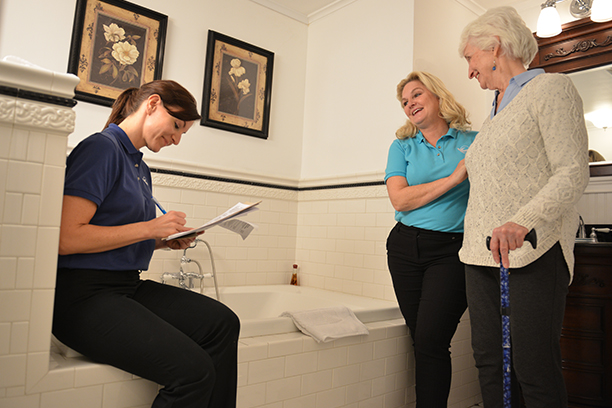 Alzheimer's Care Services
Specialized Alzheimers Care Services from Visiting Angels San Antonio TX
Alzheimers. It's a word that can stop families in their tracks. When a loved one is diagnosed there is a flood of questions that may come to mind. How long will my mom be able to continue taking care of herself? Does this mean Dad will have to live in a nursing home? What if my loved one forgets to do things like take medication or turn off the stove? These are all very normal questions and Visiting Angels San Antonio TX wants you to know you don't have to figure them out on your own. Our Alzheimers care services can help.
Visiting Angels San Antonio TX is an experienced resource for Alzheimer's and dementia care services. Countless families in Hollywood Park, San Antonio, Terrell Hills, and other communities nearby turn to us for support. Our Alzheimer's care specialists are adept at dealing with the particular nuances that come with caring for someone with a memory related disorder. We work with your loved one's doctors to provide non-medical in home care that picks up where medical services leave off.
When you choose Alzheimers care services from Visiting Angels San Antonio TX, you have access to our specially trained caregivers. We offer our elder care professionals specialized training in the art of working with Alzheimers and dementia clients. Our unique training program was developed alongside the Alzheimer's Foundation of America and was the first of its kind to address the non-medical needs of patients living with memory disorders. Alzheimers care services from Visiting Angels San Antonio TX can provide specialized care to the aging family members you love.
Having a trusted relationship between caregiver and client is always important, and even more so when the client has Alzheimer's or dementia. The caregivers from Visiting Angels San Antonio TX possess the particular skills needed in order to help your loved one feel comfortable. By working with your family member's pre-established routines and offering compassionate care, a strong bond is often formed. When you choose Alzheimer's care services from Visiting Angels San Antonio TX, we will work to address your loved one's emotional and physical needs.
When looking for Alzheimer's care services be sure to contact Visiting Angels San Antonio TX. Our compassionate professionals are here to answer your questions and get you started on the path towards peace of mind.
Serving Communities: Alamo Heights, Castle Hills, Hill Country Village, Hollywood Park, San Antonio, Terrell Hills
Visiting Angels SAN ANTONIO, TEXAS
6391 DeZavala Rd #104
San Antonio, TX 78249
Phone: 210-762-6460