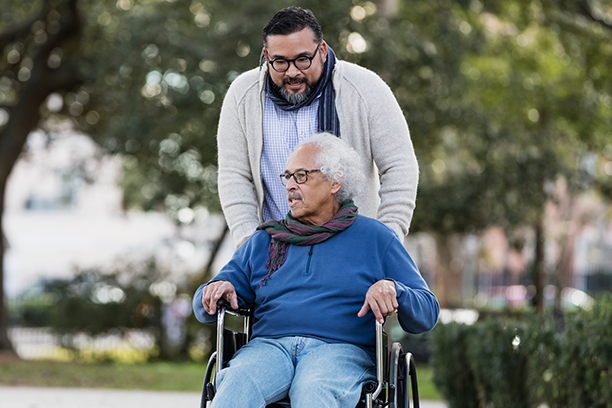 Visiting Angels of Santa Monica, CA is a Senior Home Care Agency that is Specially Trained in Helping Families Affected By Dementia
Our Senior Home Care Agency uses Positive Approach® to Care Techniques to Assist our Clients who are Living with Dementia

If you or a loved one are struggling with the effects of Dementia, you can count on the senior home care agency team at Visiting Angels of Santa Monica. Our Caregivers have undergone specialized training, known as the Positive Approach® to Care (PAC). This program helps Caregivers develop the knowledge and skills needed to effectively care for clients who are living with the challenges of Dementia. Business owner, Kathy Nelson, is a certified trainer with PAC and is happy to offer information from this program to families who are seeking education on positive Dementia care. PAC offers a wide array of training tools; through workshops, on-site training, and certifications to increase awareness surrounding dementia; particularly in the area of how to cultivate interpersonal relationships with seniors affected by the disease.
PAC was founded in 2005 by Teepa Snow, who is an advocate for seniors and their families who are living with Dementia. She first developed her PAC techniques in the late 1980s, combining her family's experience with dementia with her educational background in occupational therapy as a graduate of the master's program at University of North Carolina at Chapel Hill (UNC-CH). She later collaborated with clinicians at UNC-CH to write her first book, Geriatric First Aid Kit. This book was intended as a quick reference guide for nurses and healthcare providers. By the 2000s she began working with local Alzheimer's Association representatives in her area to conduct educational workshops for care professionals with in the community. In 2006 she was spending her time both leading educational conferences and acting as a training consultant nationwide.

Why Teepa Snow's PAC Training Makes the Difference
Instead of merely providing factual information regarding the symptoms of dementia, the PAC program dives deeply into how to approach managing an interpersonal relationship with someone who has a changing brain. This type of training affords seniors who are suffering with dementia the opportunity to remain in their homes, where they are most comfortable, versus living in a nursing facility.
"The PAC Care Philosophy"
"Respond to an individual's changes in cognition and abilities in a positive way"
"React in a thoughtful way to improve the quality of life for all parties"
"Recognize that dementia patients are doing the best they can and if something is not working, the care provider must change their approach"
"Be aware of the environment and make changes as needed"
Teepa Snow, Positive Approach to Care (Learn more)


Serving Santa Monica, Marina Del Rey, Beverly Hills, Pacific Palisades and Surrounding LA Area
Visiting Angels
SANTA MONICA, CA
401 Wilshire Blvd. 12th Floor #60
Santa Monica, CA 90401
Phone: 310-857-9377
HCO #194700892