Senior Home Care Services in Alabama

For many people in Alabama, bringing an elder caregiver into the home may seem like a stressful change -- but we at Visiting Angels do everything we can to make that change as easy as possible. For one, we let you personally choose your Alabama senior home caregiver. That way, you can be sure to get the experience you expected. Senior home care services in Alabama:
Acmar
Addison
Adger
Alabaster
Altoona
Anniston

Andalusia
Alabaster
Albertville
Alexander City
Arab

Ardmore
Arley
Athens
Attalla
Auburn
Auburn University
Baileyton
Bankston
Bay Minette
Bella Mina
Berry
Bessemer
Big Cove
Birmingham
Blountsville
Bluff Park
Bon Secour
Branchville
Bremen
Brierfield
Brookwood
Brownsboro
Cahaba Heights
Calera
Capshaw
Center Point
Centreville
Clanton
Coaling
Coker
Cordova
Cottondale
Crane Hill
Crestline Heights
Cullman
Danville
Daphne
Decatur
Dodge City
Duncanville
Eastboga
Echola
Elberta
Elkmont
Empire
Ethelsville
Eva
Fairhope
Falkville
Fayette
Florence
Foley
Fort McClellan
Fosters
Gadsden
Good Hope
Gordo
Gulf Shores
Guntersville
Gurley
Hampton Cove
Hanceville
Harpersville
Hartselle
Harvest
Hayden
Hazel Green
Helena
Highland Lake
Holly Pond
Homewood
Hoover
Houston
Hueytown
Huntsville
Indian Springs
Indian Springs Village
Irondale
Jacksonville
Jasper
Jemison
Jefferson County
Joppa
Kennedy
Killen
Laceys Spring
Lake View
Leeds
Lester
Littleville
Logan
Loxley
Madison
Magnolia Springs
Maxwell Air Force Base
Maxwell Gunter Annex
Mc Calla
Meadowbrook
Meridianville
Millbrook
Millport
Mobile
Montgomery
Moody
Mooresville
Moulton
Mountain Brook
Muscle Shoals
New Hope
New Market
Normal
Northport
Notasulga
Odenville
Oneonta
Opelika
Orange Beach
Owens Cross Roads
Oxford
Pelham
Pell City
Phenix City
Perdido Beach
Phil Campbell
Pike Road
Prattville
Prichard
Rainbow City
Red Bay
Redstone Arsenal
Riverside
Rogersville
Rosa
Russellville
Ryland
Saginaw
Saint Florian
Scottsboro
Shannon
Sheffield
Shoal Creek
Siluria
Silverhill
Snead
Somerville
South Vinemont
Spanish Fort
Stapleton
Sterrett
Summerdale
Susan Moore
Talladega
Tallassee
Tanner
Tarrant
Thorsby
Toney
Triana
Trinity
Trussville
Tuscaloosa
Tuscumbia
Union Grove
Valhermoso Springs
Vance
Vandiver
Vestavia
Vestavia Hills
Vinemont
Waldo
Warrior
Westover
West Point
Wetumpka
Woodstock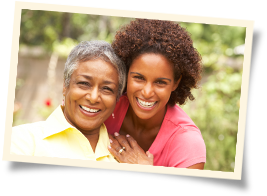 The Selection Process
When we say you personally choose your elder caregiver in Alabama, we aren't joking. We at Visiting Angels allow you to interview and select the elder caregiver you want. And that senior caregiver will work according to your schedule, making everything easier for you.
Philosophy
Visiting Angels have always prided itself on providing the best possible care for seniors living in Alabama. In addition to offering the best care to seniors, we also offer expert training and respect to our staff, which in turn benefits the seniors in our care. These components have led Visiting Angels to be dubbed "America's Choice in Homecare."
Alabama's Growing Elderly Population
The growth rate of the elderly population in Alabama (aged 65 and over) has increased from 13 percent to a projected 20.5 percent in 2025. Alabama is estimated to have the 20th highest proportion of elderly in 2025. The need for senior home care services in Alabama is growing at a proportional rate.
More Information
If you would like to learn a bit more about Visiting Angels elder care in Alabama, you should fill out an elder care Information Request form. Contact Us. We would love to hear from you.
Offices for Senior Home Care in Alabama
Visiting Angels Living Assistance Services of Anniston
Russell Renfroe & Lynn Hadley
1509A Greenbrier Dear Rd
Anniston AL 36207
We offer senior home care in Anniston, Jacksonville, Oxford, Pell City, Talladega and the Surrounding Areas
Contact office
Visiting Angels Living Assistance Services of Birmingham
Russell Renfroe
52 Medical Park Dr E #210
Birmingham AL 35235
We offer senior home care in the Birmingham Metro Area
Contact office
Visiting Angels Living Assistance Services of Birmingham
Russell Renfroe
400 Vestavia Pkwy #260
Birmingham AL 35216
We offer senior home care in the Surrounding Areas of Birmingham AL
Contact office
Visiting Angels Living Assistance Services of Cullman
Greg and Kaye Donnelly
207 4th St SE #A
Cullman AL 35055
We offer senior home care in Cullman, Etowah, Walker, Marshall & Blount Counties
Contact office
Visiting Angels Living Assistance Services of Daphne
Greg Donnelly & Sonia Strevel
25369 US Hwy 98 #A
Daphne AL 36526
We offer senior home care in All of Baldwin County, AL and the Greater Mobile Area
Contact office
Visiting Angels Living Assistance Services of Florence
Jeremy Patton
2101B Florence Blvd
Florence AL 35630
We offer senior home care in Florence, Muscles Shoals, Tuscumbia, Sheffield and the Surrounding Areas
Contact office
Visiting Angels Living Assistance Services of Foley
Greg & Kaye Donnelly
1313 South Commercial Dr #101A
Foley AL 36535
We offer senior home care in the Alabama Gulf Coast including Gulf Shores and Orange Beach
Contact office
Visiting Angels Living Assistance Services of Gadsden
Greg Donnelly
815 Riverbend Dr #A
Gadsden AL 35901
We offer senior home care in Blount, Marshall, Etowah Counties and the surrounding areas
Contact office
Visiting Angels Living Assistance Services of Huntsville
Jeremy Patton
7910 Memorial Pkwy SW #F1
Huntsville AL 35802
We offer senior home care in Huntsville, Madison, Decatur, Athens and the Surrounding Areas
Contact office
Visiting Angels Living Assistance Services of Jasper
Greg Donnelly
1634 Hwy 78 East
Jasper AL 35501
We offer senior home care in Jasper and the Communities of Walker County
Contact office
Visiting Angels Living Assistance Services of Mobile
Greg Donnelly
5901 Airport Blvd #204
Mobile AL 36608
We offer senior home care in Mobile and the Surrounding Area
Contact office
Visiting Angels Living Assistance Services of Montgomery
Matt Johnson
4213 Carmichael Rd
Montgomery AL 36106
We offer senior home care in the Greater Montgomery Area
Contact office
Visiting Angels Living Assistance Services of Northport
Paul & Valori Clemens
525 Energy Center Blvd Suite 1602
Northport AL 35473
We offer senior home care in Tuscaloosa, Northport & the Surrounding Counties
Contact office
Visiting Angels Living Assistance Services of Columbus
Matt Johnson
1501 13th St #G
Columbus GA 31901
We offer senior home care in Columbus, GA and the Surrounding Areas
Contact office