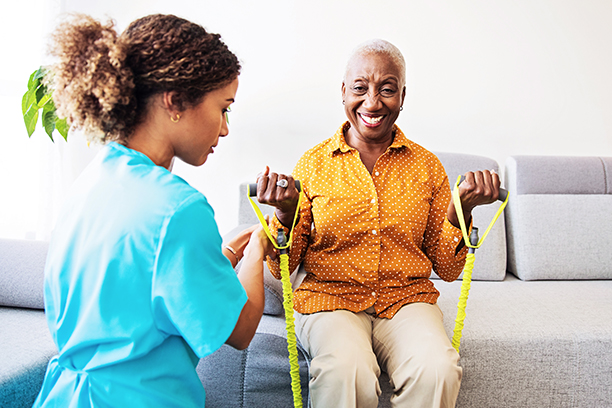 Senior Home Care in Shelburne Falls: Our Experience
Choose a senior home care provider whose expertise is clear from the outset. At Visiting Angels® Shelburne Falls, we are proud to be part of an organization with extensive industry experience. Our range of comprehensive services shows just how far we will go to help elderly adults age in place. Moreover, our kind, respectful, and compassionate caregivers deliver the quality of care seniors deserve, enabling worried families to feel confident about their care decisions.
Whether you have a loved one who needs companion care, a family member who requires memory care, or you are in need of personal care yourself, we can help. We provide customizable services and maintain a flexible approach to delivering care that makes aging in place possible for members of the Shelburne Falls community.
About Our Senior Home Care Services
When it comes to the factors that have driven the success of our local care agency, we believe our values are the main reason we have been able to build a trusted reputation in the local area. It is our belief that every senior deserves to benefit from high-quality care tailored to their needs and preferences. By offering this care, we make it easier for seniors to age in place and enjoy the comforts of home for longer.
Our expertise is also clear from the breadth of services we can deliver. Take our Life Care Navigation™ program for example. This program accommodates requirements for different forms of support, such as memory care, companionship, and mobility assistance. Through this program, we are able to offer tailored services based on each individual's lifestyle, changing circumstances, and care requirements.
Making Caregiver Matches in Shelburne Falls
Our experience has shown us that being able to offer the specific level of support seniors need is just one aspect of high-quality care. Another important element is connecting seniors with the right caregiver for their unique situation. We thus utilize a meticulous screening system to pair elderly adults with caregivers who are not only kind and compassionate, but also ready to build a relationship they can count on throughout the journey of aging in place.
Known as Select Your Caregiver®, this approach ensures the best possible pairing between elderly adults and their care providers. In addition, it allows families to have the final say in who supports their loved ones.
Call Visiting Angels Shelburne Falls to book a senior home care consultation in Shelburne Falls, East Hampton, Greenfield, South Deerfield, or a nearby town!
---
Senior Home Care FAQ
What Type of Support Can a Caregiver Provide?
Visiting Angels provides a wide range of home care services to help you find the right type of assistance and support for your loved one.
Our core services include companion care, personal care, and respite care.
We also offer a number of specialized senior home care services through Life Care Navigation®, such as Alzheimer's care, dementia care, end of life care, palliative care, transitional care, fall prevention, and assistance with digital technologies.
How Quickly Can I Start Home Care with Visiting Angels?
Visiting Angels delivers senior home care on your schedule. This includes providing our services as soon as possible to families in urgent need of home care.
In most situations, we can provide care within 48 hours of the initial consultation. In many cases, we start care services on the same day.
How will Care Be Personalized for My Loved One?
At Visiting Angels, we understand every individual has unique care needs. Because of this, we're committed to personalizing your loved one's senior home care services.
When we develop a care plan, we will consider factors like their physical and cognitive health, personal habits and preferences, living situation and daily routines, and other factors. We may also consider input from medical professionals, such as their doctors or nurses.
This information, along with input from you and your loved one, will be used to create a one-of-a-kind care plan. We will tailor our services according to your loved one's needs, schedule care visits around their routines, and develop unique care directives to match their personality and lifestyle.
What Happens if My Care Needs Change Over Time?
Many seniors see their care needs evolve over time and may require longer or more frequent care visits as they age. Often, they will also require new types of care services or changes to the services they already receive.
With Visiting Angels, care plans can be easily changed according to your loved one's needs. We perform regular check-in visits and provide ongoing monitoring, and we remain in frequent contact with families. This way, you're always up to date and informed. If changes occur in your loved one's health, lifestyle, or care preferences, we can adjust their care plan accordingly.
What Is Select Your Caregiver®?
Select Your Caregiver® makes it easy to find the right senior home care provider for your loved one.
When we develop your loved one's customized care plan, we will consider the unique qualities your loved one needs in a caregiver. We will then match your loved one with a qualified care provider who possesses these qualities.
Through our Select Your Caregiver® program, you and your loved one will be able to choose their senior home care provider. Whenever possible, you'll have the opportunity to interview your loved one's caregiver before care services begin. Additionally, your local Visiting Angels office will be in close contact during the initial stages of care to ensure we found the right fit.
Serving the Hilltowns, Western Franklin County and Hampshire County
Visiting Angels
SHELBURNE FALLS, MA
5 State Street 3rd Floor
Shelburne Falls, MA 01370
Phone: 413-822-2177