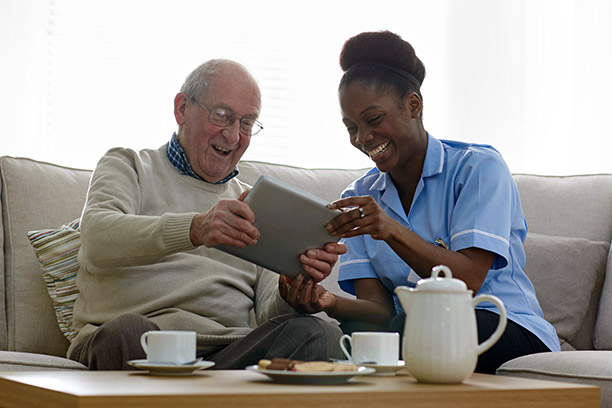 Alzheimer's Care in Shelburne Falls
Our Mission: Improve the Quality of Life for Those Living with Alzheimer's and Their Families
If you're looking for Alzheimer's care options for a loved one in Shelburne Falls, don't hesitate to consider our at-home care. At Visiting Angels® Shelburne Falls, we offer services that can be delivered in the comfort of seniors' homes. Our care providers are prepared to offer specialized support for elderly adults living in Shelburne Falls, Hampshire County, Easthampton, Southampton, Greenfield, Deerfield, and the surrounding areas who have been diagnosed with Alzheimer's disease.
Why Choose At-Home Alzheimer's Care in Shelburne Falls?
Familiar surroundings can play a crucial role in the well-being of those who have been diagnosed with Alzheimer's disease. When they are forced to leave the comfort of their home environment in order to move to a nursing home, memory care center, or assisted living facility, they may experience feelings of confusion, stress, and anxiety. Rather than putting your loved one through a traumatic move, you can ensure they have access to professional care while aging in place.
Our Alzheimer's care services differ from traditional senior home care in Shelburne Falls in that they are designed to meet the distinct needs of elderly adults with Alzheimer's disease. We'll build a personalized care plan for your loved one based on the unique challenges of this disease as well as his or her individual needs and personal preferences.
This care solution isn't just optimal for seniors. It can also come as a huge relief for family caregivers. If you've been constantly worrying about your loved one's well-being, you'll finally find peace of mind when you know that one of our professional caregivers is providing them with customized care. And if you've been acting as the primary care provider for your loved one until this point, we'll ensure you have respite from your duties and time off to tend to your own needs.
About Our Alzheimer's Care Services at Visiting Angels Shelburne Falls
As our services are flexible, they can be adjusted over time as seniors progress through the various stages of Alzheimer's. Here are a few of the many activities we can assist with and types of services we're prepared to provide:
Basic household chores
Bathing, showering, and grooming
Getting dressed in the morning
Preparing healthy meals
Diet supervision
Wandering prevention
Incontinence care
Respite care
Palliative care
Friendly conversation
Transportation to appointments
Call Visiting Angels Shelburne Falls today to schedule a free Alzheimer's care consultation at your loved one's home in Shelburne Falls, Hampshire County, Easthampton, Southampton, Greenfield, Deerfield, or a community in the surrounding areas.
Serving the Hilltowns, Western Franklin County and Hampshire County
Visiting Angels
SHELBURNE FALLS, MA
5 State Street 3rd Floor
Shelburne Falls, MA 01370
Phone: 413-822-2177