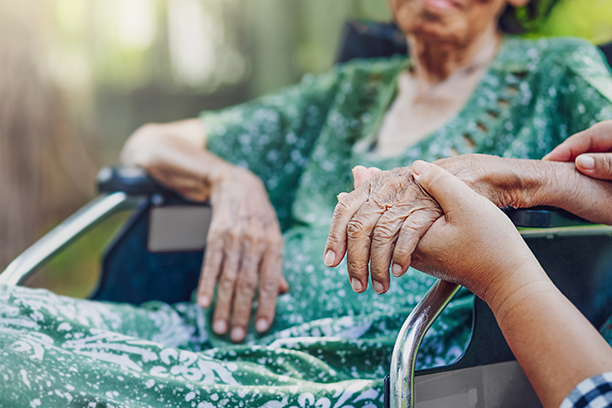 Transitional Care in Sioux Falls Helps Avoid Hospital Readmissions
Ready-Set-Go Home with Transitional Care
One out of every five seniors is readmitted to the hospital within 30 days after they return home. Many times, the readmissions are due to a lack of receiving and following proper care instructions transitioning from the hospital to home. At Visiting Angels® Sioux Falls, we can help to minimize the occurrence of hospital readmissions for seniors with our transitional care program, Ready-Set-Go Home.
Ready-Set-Go Home is a non-medical transitional care program created to help seniors successfully avoid expensive and physically exhausting hospital readmissions. When your loved one is ready to go home from the hospital, our caregivers can work with medical staff to develop a detailed transitional care plan. Our transitional care professionals can then provide in-home assistance and make sure that all after-care instructions are followed.
Helping Sioux Falls Seniors Avoid Readmissions
There are many reasons why hospital readmissions are so common. Some of the main reasons include:
Failure to follow discharge instructions. Seniors often forget or simply don't take the necessary steps to avoid readmission.
Exhaustion. Chaotic schedules, dietary changes and constant interruptions often leave seniors feeling exhausted after a hospital stay.
New medications. New prescriptions are often confusing for seniors and can make it difficult for them to incorporate into their new daily routine.
Difficulty managing at home alone. Seniors often struggle to get back into their normal rhythm after a hospital stay.
No transitional care plan. Without a plan in place, seniors can return home feeling overwhelmed, tired and unable to keep up with changes to their lifestyle or routines.
At Visiting Angels Sioux Falls, our Ready-Set-Go Home transitional care program helps seniors avoid readmission with multiple level support:
At our Sioux Falls office – Our staff handles the details so that our in-home transitional care professionals can provide compassionate care. We can arrange delivery of prescriptions, special equipment, medical supplies, and groceries.
At the hospital – Our transitional care professionals will collaborate with your loved one's medical team to generate a detailed care plan.
At home – Our transitional care professionals provide care to Sioux Falls seniors at their homes, helping to avoid hospital readmissions.
Some of the most common ways our transitional care helps seniors includes preparing meals, helping with housekeeping chores, help with bathing and dressing, medication reminders, fluid and food intake monitoring, and help getting to follow up appointments and therapies.
If your loved one lives in Sioux Falls, Brookings, Mitchell, Brandon, Dell Rapids, or Madison, SD, we can provide transitional care services. Call today for more information.
Serving Sioux Falls and the Surrounding areas.
Visiting Angels
SIOUX FALLS, SD
3600 Westport Ave #200
Sioux Falls, SD 57106
Phone: 605-540-4444
Fax: 605-951-9192