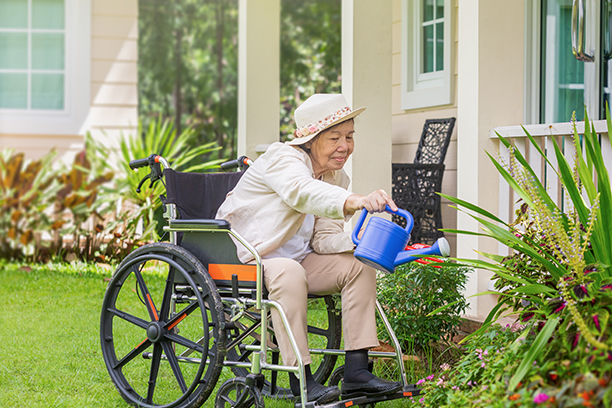 About Visiting Angels
Our Staff
Keith Jordan - Owner - Visiting Angels Southbridge and Milford
Keith has over Twenty years experience working in the community as a successful business owner. Keith has worked directly with various Geriatric Nursing Facilities and Hospitals providing support in a variety of capacities. Transitioning to becoming a Visiting Angels Owner has allowed Keith to a more personal relationship with clients and their families. As owner of Visiting Angels Keith strives to provide compassionate, skilled and individualized care to every Visiting Angels client in the comfort and security of their own home. The goal of Visiting Angels is to enable all Visiting Angels Care recipients to enjoy the best quality of life possible.
Jill Bazinet - Office Administrator
As an essential member of Visiting Angels, Office Administrator Jill Bazinet has extensive experience managing a large local physicians' office. With her strong organizational skills. Jill is instrumental in coordinating the everyday office operations of Visiting Angels. Often acting as the initial contact person for Visiting Angels, Jill plays a pivotal role connecting clients to resources and as well as matching care recipients with caregivers.
In cultivating relationships with clients, Jill always exercises a compassionate approach,and will go above and beyond to ensure all care recipients needs are met.
Judy Spence Registered Nurse / Medical Director
Medical Director Judy Spence was the team head of Orthopedic Nursing at Toledo Hospital in Ohio for three years and has worked extensively in a hospital setting. Judy also has over Twenty five years experience working with the Geriatric population having been employed as a Geriatric Nursing Supervisor at the Providence House of Southbridge MA and as a Nursing Supervisor for The Overlook Masonic Home in Charlton MA .Judy directed the nursing care of elderly clients as well as preparing care plans, supervising infection control and performing a variety of other supervisory duties.
Visiting Angels Provides Top Quality Homecare Services
As Medical Director for Visiting Angels, Judy is allowed an opportunity to function in the area of nursing which she considers her passion. In her capacity as Medical Director Judy prepares individualized care plans for clients, and provides direct homecare supervision. Judy also advises clients and answers any medically related questions that they may have.
Visiting Angels provides top quality homecare services with compassionate, professional homecare workers. Visiting Angels lets loved ones rest assured, knowing that clients are being cared for by a compassionate capable caregiver while allowing the client to remain at home in a safe familiar environment.
Visiting Angels offers a wide range of services at reasonable rates including ;light housekeeping, bathing and dressing assistance, medication reminders, grooming, shopping, errands, meal preparation, transportation ,friendly companionship and respite care for families. Visiting Angels provides assessments and care plans which are designed by a License Registered Nursing Supervisor to fit the needs of the individual client. All caregivers are familiarized with the care plan previous to beginning work with the client.
Visiting Angels Supervisors make periodic phone surveys and visits to care recipients home as well to insure that care recipients are receiving the best care possible .A Visiting Angels supervisor is available Twenty four hours a day to discuss any questions or concerns a provider or care recipient may have.
Visiting Angels strives to enable care recipients to enjoy the best quality of life possible.
Serving Communities in Sturbridge, MA; Dudley, MA; Oxford, MA; Southbridge, MA; Webster, MA and Surrounding Areas
Visiting Angels
SOUTHBRIDGE, MA
50 Elm St #F
Southbridge, MA 01550
Phone: 508-764-6700
508-764-6701
Fax: 508-764-6725